Her's the first reports on the recent Finals held in Anaheim, CA USA. This report comes to us by way of the Orange County Register, a local newspaper from the area.
Monstrous trading-card game phenomenon attracts thousands of enthusiasts to the YuGiOh! World Finals in Anaheim.
Anaheim – Sang Bui, 17, often thinks about his monsters. He wonders if there is a perfect spell to enhance the strength of his Dark Wizard. Or whether his monsters are powerful enough to beat a rival's. Or if a trap could have helped him win.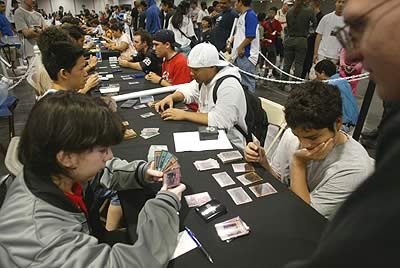 Challenge The Expert
– pic © 2004 OCR
EXPERTS: Felipe Luque, 15, of Chile, an expert player, faces Jessie Orozco, 14, of La Puente, right, at the "Challenge The Expert" area at the Yu-Gi-Oh! World Championship in Anaheim.
JEBB HARRIS, THE ORANGE COUNTY REGISTER
Story By: TAMARA CHUANG
The Orange County Register
Bui's penchant for strategizing helped him reach the worldwide finals for the Yu-Gi-Oh! card game, which took place Sunday at the Anaheim Convention Center in front of a crowd of about 10,000 people. The Fountain Valley resident was among 32 trading-card finalists from all over the world – including four from the United States – who had the chance to pit a horned Mad Sword Beast against a one-eyed Opticlops, or whatever monster lurked in their personal deck of cards. Another 16 contestants battled to become the champ of the Yu-Gi-Oh! video game.
"Sometimes I daydream about strategies," said Bui, who often plays the card game on average 16 hours a week. "It doesn't really hurt your brain. It's really fun. It's not like a hard math problem."
Fans of the Japanese cartoon character flocked to Anaheim to buy special cards, watch on giant video screens as the finalists duked it out, and challenge experts to a duel. The Yu-Gi-Oh! phenomenon has inspired a global video-game and trading-card industry, TV series, a movie out next month and even a breakfast cereal.
The cartoon hit the after-school cartoon circuit about three years ago in the United States, just as aging Pokemon addicts hunted for their next challenge. The Yu-Gi-Oh! characters are older. The monsters are more gruesome. The game strategies are more complicated.
Yugi, the main character, is a gamemeister himself, having solved an ancient Egyptian puzzle that gives him special fighting powers. With a punked-out hairdo and enormous anime eyes, Yugi uses a collection of monsters and spells to fight rivals who, like himself, hope to become the king of duelists. His motto: Trust in the heart of the cards.
Today, Yu-Gi-Oh! merchandise ranks as one of the top-selling brands in card games, toys and video games. Konami Digital Entertainment, which has released a dozen Yu-Gi-Oh! video games in two years, has sold 7.1 million games just in the United States. Most video games in the industry don't even break the 100,000 mark.
"We had major success in Japan with Yu-Gi-Oh!, however, at the same time, we weren't sure we'd have the same success in the United States," Kazumi Kitaue, Konami's chief executive, said through a translator. "It's a better-than-expected reception."
The launch of trading cards two years ago by Upper Deck Co. in Carlsbad revived an industry that was looking for the next Pokemon, said Jason Winters, games editor for Comics & Games Retailer magazine. Of the 25 trading-card games tracked, Yu-Gi-Oh! ranks No. 2, garnering about one-third of the $200 million market.
Brian Yager, 12, waves his hat and yells from the audience as he tries to get called on during a trivia contest on Yu-Gi-Oh! cards.
© 2004 OCR
At Sunday's tournament, fans lined up for a chance to buy limited-edition trading cards, which can make or break a player's deck. Others brought their own card packs hoping to duel an expert. For the final tournament game, Ryon Peyton from Virginia beat out Pere Torrellas Salietti from Spain in a video game projected on large video screens for the audience to ooh and ahh at the strategic moves. Masatoshi Togawa from Japan was crowned king of the card games.
"If you get started, you're going to get hooked," warned Junior Fiane, a 31-year-old Long Beach resident. He dueled a finalist and "lost badly," he said.

"The game itself is pretty fun. It's complicated. You've got to build a good deck," said Fiane, who estimated that he and girlfriend An Faletogo combine to play about 40 hours a week.
"He'll play his brother over the phone," piped in Faletogo, 35, who hired a sitter for the day so they could attend the tournament and test their skills against a group of Yu-Gi-Oh! experts. Faletogo won her challenge.
Kris Park, 16, and his family traveled from Hayward for the tournament. But only his dad stuck around while the rest of the family went to Disneyland.
"I've been to Disneyland many times," said the former Pokemon fan. "Besides, this is what I really wanted to do."
"He's been wanting to do this for months," said his father, Eric.