Konami Digital Entertainment America today announced the release of two more titles in the Yu-Gi-Oh! franchise. Yu-Gi-Oh! Capsule Monster Coliseum for the PlayStation 2 and Yu-Gi-Oh! Destiny Board Traveler for the Game Boy Advance, both based on the popular manga series that runs in the magazine Shonen Jump, have shipped to retail stores nationwide.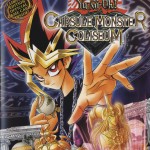 Capsule Monster Coliseum for the PS2 is a strategic board game featuring single- and multiplayer modes. Players can face off in turn-based battles against a horde of demons, or against each other


On the GBA, Destiny Board Traveler is a fusion of the Yu-Gi-Oh! trading-card game and a video board game that sees players duel with cards and dice on a variety of different maps. It supports four-player simultaneous link play.
Both games are rated "E" for Everyone. Capsule Monster Coliseum carries an SRP of $39.99, while Destiny Board Traveler will cost $29.99.