TCG players in the UK and other European Countries get their chance to join the winners from the USA and Japan..
Konami has been hosting regional heats of the Yu-Gi-Oh! world champs as players fight for a place in the 2005 Yu-Gi-Oh! World Championship Tournament final! Game Boy Advance-owning Yu-Gi-Oh! duelists from all over the globe will converge in Tokyo in August, as Konami's hunt for the greatest Yu-Gi-Oh! player heats up.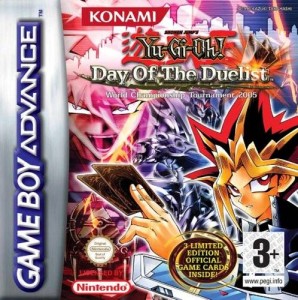 For the third year running, Konami of Europe has invited fans of its Yu-Gi-Oh! Day of the Duelist – World Championship Tournament 2005 title for Game Boy Advance to a series of local competitions designed to pit the best duelists from each country against each other. Local competitions are being held in all major European countries during June and July, including the UK, France, Germany, Spain, Italy, Sweden, and Holland.
Entrants will compete against each other in a knock-out tournament which will ultimately reveal each country's greatest duelist. The winners will then be flown to Japan for the annual World Final in Tokyo. Taking place from August 6th-7th, the European winners will be pitted against the best players from the US and Japan for another tournament – this time to determine the world's best Yu-Gi-Oh! World Championship Tournament 2005 player.
"That we are now about to hold the third world tournament shows the continued interest in Yu-Gi-Oh!," said Christopher Heck, European Brand Manager for Konami of Europe. "Yu-Gi-Oh! remains an important franchise for Konami and with these tournaments and the grand final we create a genuine buzz amongst its fans and appeal to the competitive elements that form the basis of the Game Boy game. The tournament allows players to show off their skills, meet like-minded fans and, of course, determine who is the ultimate champion."