Episodes Now Airing on Kids WB! Available Beginning December 6, 2005 on DVD

4Kids Entertainment Home Video, Inc., the home video unit of 4Kids Entertainment, Inc., in association with FUNimation Productions LTD, will release Yu-Gi-Oh! Volume 4.1: A New Evil featuring seven action-packed episodes from the current Kids WB! broadcast season on DVD on December 6, 2005, it was announced by Joe Lyons, Director of Home Entertainment.
At the close of Season 3, Yugi has won the Battle City Finals, defeated Marik and obtained all three Egyptian god cards. All that's left for him to do is use these three powerful cards to unlock the ancient Power of the Pharaoh that lies dormant within him. Yugi realizes the way to do this is to hold the three cards against the five thousand-year-old tablet that resides in Domino Museum.
As Yugi is performing the ritual to regain his lost powers, another ritual is taking place simultaneously at an unknown location. Just then something strange occurs. Real monsters begin to appear around the world!
The gang discovers that a gateway has opened up between our world and a world in which ancient monsters exist. The collision of these two worlds is caused by a new villain named Dartz, and his three minions: Raphael, Alister and Valon. It is later revealed that Dartz was the leader of an ancient civilization on the lost Island of Atlantis, 10,000 years ago. His goal is to capture enough human and monster souls to awaken his ultimate creature, Leviathan! Dartz will then destroy the world and rebuild a civilization that will live by his rules. Now Yugi and his friends must stop this villain and separate the two worlds before the planet falls into a state of chaos!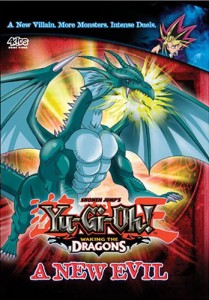 YU-GI-OH! Volume 4.1: A New Evil
Episode 401 A New Evil – Part I
Episode 402 A New Evil – Part II
Episode 403 Legend of the Dragons
Episode 404 The Creator Returns
Episode 405 Deja Duel! – Part I
Episode 406 Deja Duel! – Part II
Episode 407 An Unexpected Enemy
RUNNING TIME: Approx. 80 minutes
RATING: TV PG
SRP: $14.98
STREET DATE: 12/06/05