As you know, there has been a ton of buzz recently about the Yu-Gi-Oh! Capsule Monsters television story arc in Ireland and when it will be shown in the US.
Well, I've got some news that you might want to check out:
YU-GI-OH! CAPSULE MONSTERS THE MOVIE YUGI DISCOVERS A WHOLE NEW WAY TO DUEL IN ALL-NEW DIRECT-TO-DVD RELEASE
It's a Battle for Survival as Yugi Trades his Duel Disk for a Capsule Shooter First of Two New Capsule Monster Movies Coming Soon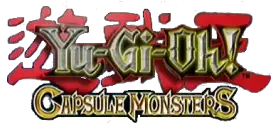 Saving the world from destruction week after week is no easy task. So, when Joey wins an exotic trip for four, Yugi and his friends decide to take a much-needed vacation – or so they think! Before reaching their destination, their plane crash-lands in a deserted forest where the gang meets the mysterious Dr. Alex Brisbane, an archeologist who has made an astonishing discovery. Here in a remote area thousands of miles from Egypt lies a great pyramid that contains an incredible secret – a portal to another dimension – the world of the Capsule Monsters!
When Yugi and his friends enter this pyramid, they are magically transported to a dangerous realm inhabited by ancient creatures. Lost in a mystical labyrinth, they must complete a series of trials in order to find the passage back home. It's a battle for survival as Yugi trades in his Duel Disk for a Capsule Shooter in life-threatening challenges that are so much more than just a game!
Stay tuned to YW for exclusive online sneak peaks..