4KIDS HOME VIDEO PRESENTS A ONE-TIME-ONLY PREVIEW OF THE NEW DVD YU-GI-OH! "CAPSULE MONSTERS" LIVE AT YUGIOH.COM MONDAY, MAY 22, 2006 7:00 p.m. ET / 4:00 p.m. PT
This Exclusive Streaming Event Celebrates YU-GI-OH! CAPSULE MONSTERS Release On May 23, 2006
Look for the Direct-To-DVD Release On Tuesday, May 23, 2006
FOR IMMEDIATE RELEASE:
NEW YORK (May 10, 2006) – 4Kids Entertainment Home Video, Inc., the home video unit of 4Kids Entertainment, Inc. (NYSE: KDE), will offer Yu-Gi-Oh! fans an exclusive online advance viewing of Yu-Gi-Oh! Capsule Monsters, the new direct-to-DVD release. www.yugioh.com, the official Yu-Gi-Oh! Web site, will stream the entire 90-minute DVD on Monday, May 22, 2006 beginning at 7:00 p.m. ET / 4:00 p.m. PT. This premiere event comes on the eve of the highly anticipated DVD release of Yu-Gi-Oh! Capsule Monsters on May 23, 2006.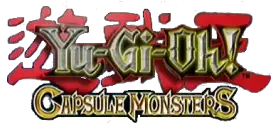 Yu-Gi-Oh! Capsule Monsters pits Yugi, Tea, Tristen and Joey against a new crop of ancient monsters who are out to destroy them. To defeat the monsters, the kids must now work together as a team and abandon their trusty Duel Disks for different technology – Capsule Shooters.
"Because so many Yu-Gi-Oh! fans rely on Yugioh.com for the latest inside information on the legendary series, we wanted to reward the fans by giving them a sneak peek at our latest home video release," said Joe Lyons, Director of Home Entertainment at 4Kids. "We expect that having the North American premiere of Yu-Gi-Oh! Capsule Monsters online – an unprecedented event for 4Kids – will help generate a lot of buzz around this release."

Yu-Gi-Oh! Capsule Monsters
Saving the world from destruction week after week is no easy task. So, when Joey wins an exotic trip for four, Yugi and his friends decide to take a much-needed vacation – or so they think! Before reaching their destination, their plane crash-lands in a deserted forest where the gang meets the mysterious Dr. Alex Brisbane, an archeologist who has made an astonishing discovery. Here in a remote area thousands of miles from Egypt lies a great pyramid that contains an incredible secret – a portal to another dimension – the world of the Capsule Monsters!
When Yugi and his friends enter this pyramid, they are magically transported to a dangerous realm inhabited by ancient creatures. Lost in a mystical labyrinth, they must complete a series of trials in order to find the passage back home. It's a battle for survival as Yugi trades in his Duel Disk for a Capsule Shooter in life-threatening challenges that are so much more than just a game!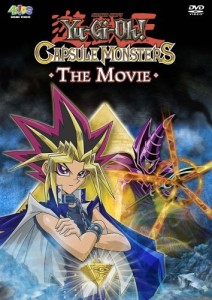 DVD Details:  Yu-Gi-Oh! Capsule Monsters
DVD Extras: Deleted Scenes
TITLE: Yu-Gi-Oh! Capsule Monsters
RUNNING TIME: Approximately 95 minutes
RATING: TV-Y
FORMAT: DVD
SRP: $14.98
PREBOOK DATE: 4/18/2006
STREET DATE: 5/23/2006