Duel with Konami's card battle game for the Sony Play Station Portable
Our reporters stopped by the Konami booth at this years E3 and got their hands on Yu-Gi-Oh GX, the latest PSP card battler that is based on the GX cartoon. We found out that many of the voice actors that lend their talents to the cartoon will also provide their voices to their characters in the game, so there's a nice crossover between the forms of media. We also discovered that Yu-Gi-Oh GX will take place at Duel Academy, and will cast the player as a young dueler that will go up against Jaden Yuki, Alexis Rhodes and other characters from the series.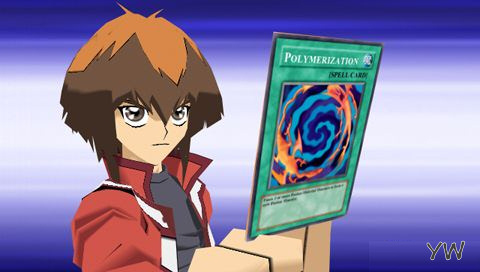 An interesting game feature that Yu-Gi-Oh will feature is a tag element, where four players will have the option to swap out characters if their deck is getting defeated. There's also been an expansion of the animated sequences for cards on the battlefield, and characters will draw and activate cards in action shots. You'll also see the incarnations of cards come to life thanks to anime presentations of the beasts themselves.
We'll have more on Yu-Gi-Oh GX when info becomes available.