THE KING OF GAMES IS FRONT AND CENTER IN NEW Yu-Gi-Oh! TRADING CARD GAME YUGI'S LEGENDARY DECKS

El Segundo, Calif. (November 9, 2015) – Just in time for the holiday gift-giving season, Konami Digital Entertainment, Inc. (KONAMI) delivers a must-have product for fans on November 13 with Yugi's Legendary Decks. This latest Yu-Gi-Oh! TRADING CARD GAME (TCG) release is a magnificent collector's set which contains three different Decks used by the "King of Games" himself, plus several unique, collectible foil cards, all in one gold foil-stamped box. With Yugi's Legendary Decks, Yu-Gi-Oh! fans can re-live the memorable Duelist Kingdom and Battle City storylines with the Decks that Yugi used to defeat his rivals, rescue his Grandpa from Pegasus, protect the Pharaoh's legacy, and save the entire world from the maniacal menace of Marik!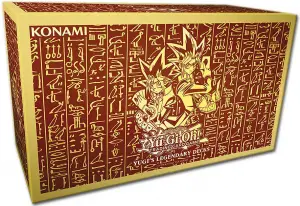 This remarkable box set is overflowing with dozens upon dozens of fan-favorite and collectible cards, easily pleasing both the veteran or budding Duelist. Filled with iconic cards such as Black Luster Solider, all five pieces of Exodia, the Forbidden One all in the Ultra Rare rarity, Valkyrion the Magna Warrior, and the special, long-awaited Arkana-style Dark Magician, each box set includes three different 41-card Decks. The first Deck is one used by Yugi in the debut season of the original Yu-Gi-Oh! animated series, including his initial Duel with Seto Kaiba and his adventures in Duelist Kingdom. The second Deck is inspired by Yugi's Duels in the Battle City story arc from the second and third seasons of the original Yu-Gi-Oh! animated series. Not to be outdone, the third 41-card Deck was used by Yugi as he battled The Pharaoh in the final Duel of the original series, focused on "Gadget" monsters and the "Silent" series of "LV" monsters.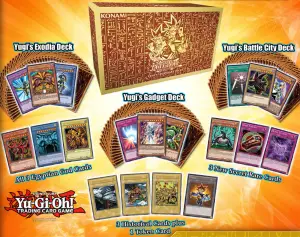 As if three 41-card Decks weren't enough, Yugi's Legendary Decks also includes three brand-new Secret Rare cards: Electromagnetic Turtle, Dark Renewal, and Black Illusion; three Ultra Rare collectible (non-playable) historical cards celebrating the Duelist Kingdom storyline, including Glory of the King's Hand, Set Sail for The Kingdom, and the Duelist Kingdom itself; and three Ultra Rare collectible (non-playable) Egyptian God Cards: Slifer the Sky Dragon, Obelisk the Tormentor, and The Winged Dragon of Ra. Plus, KONAMI has added one Ultra Rare "Yugi" Token Card to top it off.
Yugi's Legendary Decks will be available nationwide for $29.99 MSRP.
Duelists can watch all-new Yu-Gi-Oh! Zexal episodes every Tuesday as well as all of classic Yu-Gi-Oh!, Yu-Gi-Oh! GX, and Yu-Gi-Oh! 5D's on www.Yu-Gi-Oh!.com in the United States. In addition, Yu-Gi-Oh! Zexal airs Saturday mornings on Nicktoons from 10-11. In Canada, Duelists can watch episodes of Yu-Gi-Oh! Arc-V every Friday and Saturday on Teletoon!
For more information on KONAMI or the Yu-Gi-Oh! TRADING CARD GAME, please visit www.Yu-Gi-Oh!-card.com or call 310-220-8630 to speak directly with a Yu-Gi-Oh! customer support team member.

About The Yu-Gi-Oh! TCG
The Yu-Gi-Oh! TRADING CARD GAME is the #1 trading card game in the world with over 25 billion cards sold. It is a game of strategy, where players create individual Decks of cards collected from Structure Decks and Booster Packs. Two players engage in a Duel while using cards that represent powerful monsters, magical Spells and surprising Traps. Duelists with well-constructed Decks, dominating monsters, solid strategy and good fortune are the victors in the Yu-Gi-Oh! TCG. Konami Digital Entertainment, Inc. is the exclusive licensee and rights holder to the Yu-Gi-Oh! TCG in North America and Latin America.
About KONAMI
KONAMI is a leading developer, publisher and manufacturer of electronic entertainment properties and traditional trading card games. KONAMI's software titles include the popular franchises Metal Gear Solid, Silent Hill, DanceDanceRevolution and Castlevania, among other top sellers. KONAMI is also the manufacturer of the wildly popular Yu-Gi-Oh! TRADING CARD GAME, which has sold more than 25 billion cards worldwide.
The latest information about KONAMI can be found on the Web at www.konami.com. KONAMI CORPORATION is a publicly traded company based in Tokyo, Japan with subsidiaries, Konami Digital Entertainment Co., Ltd. in Tokyo, Japan, Konami Digital Entertainment, Inc. in the United States and Konami Digital Entertainment B.V. in Windsor, the United Kingdom. Details of the products published by KONAMI can be found at www.konami.com.