A new teaser promo, airing on the Nicktoons channel, is for the United States airing of the Yu-Gi-Oh! Arc-V television anime series.
The teaser reveals that the anime will begin airing on the channel in February.

The teaser previews the show's English dub which has previously released in Canada last August.
The Yu-Gi-Oh! Arc-V anime, the newest Yu-Gi-Oh! anime series inspired by Kazuki Takahashi's original manga, premiered in Japan in April 2014.
The series focuses on a new protagonist, Yuya Sakaki. As with the previous spin-offs, it focuses on (and introduces) a new type of Summoning – this time, Pendulum Summoning, as well as Pendulum Monsters and the mechanic in general.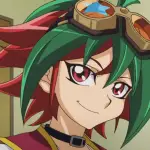 Yu-Gi-Oh! ARC-V centers around Yuya Sakaki, as he tries to escape from harsh reality by smiling. But one Duel leads him to make a determination to confront the difficulties and he will get the power of infinite possibilities. The show's main theme is "Take a step forward with courage!!"
Yuya is a student at a preparatory school, learning to become an "entertainment Duelist", a type of professional Duelist.
Thanks to AnimeNewsNetwork for the heads up!