Konami Digital Entertainment Showcases New Yu-Gi-Oh! Trading Card Game Products At American International Toy Fair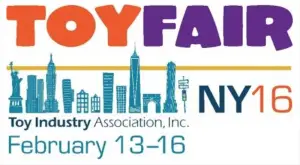 EL SEGUNDO, Calif., Feb. 10, 2016 /PRNewswire/ — Konami Digital Entertainment, Inc. (KONAMI) is poised for an exciting and successful 2016 with its deep portfolio of Yu-Gi-Oh! TRADING CARD GAME (TCG) products. KONAMI is set to unveil their 2016 first and second quarter products at the American International Toy Fair February 13-16 in booth #4925 at the Javits Center in New York City.
"We are quite excited by the successes of 2015 as our Yu-Gi-Oh! TRADING CARD GAME products, combined with our growing fan base, have set the stage for a great year ahead," said Yumi Hoashi, Senior Vice President, Card Business for Konami Digital Entertainment, Inc.  "Toy Fair gives us the chance to share our product release schedule and promotional plans with our hobby and mass market partners in a fun environment. After having one-on-one meetings at the show, they walk away confident knowing we can satisfy the needs of both new players and competitive Duelists,"
With two new 2016 releases already doing well on store shelves, KONAMI introduces two more this Friday, February 12. The Wing Raiders special booster set contains brand-new Xyz cards and cards from the new Yu-Gi-Oh! ARC-V series, including several cards to help players power up a current Deck, or build a whole new Deck with new powerful cards like Raidraptor – Satellite Cannon Falcon. Duelists can also try their hand at commanding two new monster themes that'll take their Xyz strategies to the next level – the spectral Phantom Knights and the Super Quantum mecha pilots! The Wing Raiders booster set contains 60 cards; MSRP: $3.99 each 9-card pack.
Duelists who have amassed a collection of new cards during the past few months can now show off their stash in style with Yu-Gi-Oh! Chibi Sleeves also releasing February 12. These glossy, premium quality tournament-legal sleeves feature the iconic Yugi – in all his super-deformed glory!  Naturally, the Chibi Sleeves go great with the Yu-Gi-Oh! Duelist Kingdom Chibi Game Mats and the  Yu-Gi-Oh! Chibi Card Case, both released last year – collect all of them to complete an awesome Chibi set.  MSRP: $3.99 per 50 card sleeve pack.
KONAMI follows-up its January Breakers of Shadow booster set with Breakers of Shadow Special Edition launching later this month on February 26. Providing excellent value for all Yu-Gi-Oh! TCG players, each box of Breakers of Shadow Special Edition comes with three booster packs of Breakers of Shadow, one of two Super Rare Cards from the upcoming Shining Victories booster set plus one of two Super Rare Cards – all for less than what it would cost to buy three individual booster packs. MSRP: $9.99 per box.
See the details for the above products in their news release here.
Duelists can add a little dazzle to their collections on March 18 with Premium Gold: Infinite Gold. This set has something for everyone, including dozens of upgraded cards to bling out a player's collection plus 21 new cards for a Duelist's Main Deck and Extra Deck, all gleaming in gold foil technology.
Each 5-card Premium Gold: Infinite Gold mini-pack contains two Gold Secrets – each card a brand-new, never-before-seen card and three Gold Rare versions of popular cards. As a special bonus to all players, scores of Gold Rare cards in the set includes former Yu-Gi-Oh! Championship Series Prize Cards Number 106: Giant Hand and Digvorzhak, King of Heavy Industry, now available for everyone to use.  Every $14.99 MSRP box contains three mini-packs.
On April 15, the original Yu-Gi-Oh! TV series takes center stage with Millennium Pack as dozens of old favorites get a whole new look alongside brand new cards from TV that for years players have been clamoring. This 48-card set includes more than 20 variant artwork illustrations for classic cards like Thousand Dragon, Flame Swordsman, Widespread Ruin, Kunai with Chain, and Celtic Guardian. Millennium Pack also offers famous cards from the TV series that have never been in print before, including Kaiba's ultimate card-drawer, the Card of Demise, and the final version of the mightiest Egyptian God Card: The Winged Dragon of Ra – Immortal Phoenix! MSRP: $1.99 per 5-card pack.
In May, the spotlight is on the May 6 release of Shining Victories, the latest Yu-Gi-Oh! TCG core booster set. Appealing to veteran and novice players alike, Shining Victories is a 100-card set with brand-new Deck themes such as Lunalight, Digital Bug, and Amorphage Dragons, support for recent and classic themes, and signals the bold return of a legendary dragon to the Yu-Gi-Oh! TCG – Blue-Eyes White Dragon – with a plethora of specially crafted "Blue-Eyes" monsters and support cards! MSRP: $3.99 per pack.
May 26 sees the release of the latest Starter Deck for the Yu-Gi-Oh! TCG*.  Designed to teach new Duelists how to Duel, the new Starter Deck is the best place to start a budding Duelist's career! Fans will be entertained with a 40-card ready-to-play Deck, including 9 brand-new Performapal cards, and three special Token cards. MSRP: $9.99 per Deck.
Rounding-out spring, according to the  American International Toy Fair announcement, are two new products that'll help Duelists of all skill levels prepare for summer tournaments and beyond. First, it's Shining Victories Special Edition releasing on June 17. Each box of Shining Victories Special Edition comes with three packs of Shining Victories, one of two Super Rares from the upcoming fall booster set, and one of two guaranteed variant cards. MSRP: $9.99 per box.
Then it's Pendulum Domination Structure Deck scheduled for a July 15 release. Pendulum Domination is a complete D/D themed Deck that gives Duelists brand-new Monster and Spell Cards, including new Extra Deck Monsters they'll need to set up a never-ending cycle of domination! MSRP: $9.99 per Deck.
Between conventions, regional tournaments and in-store events, Duelists will have plenty of opportunity to put their skills to the test this summer. For more information on KONAMI's extensive Organized Play programs, including opportunities for aspiring Duelists to learn how-to-play the game, go to www.yugioh-card.com/en/events.
Duelists can watch all-new Yu-Gi-Oh! ZEXAL episodes every Tuesday as well as all of classic Yu-Gi-Oh!, Yu-Gi-Oh! GX, and Yu-Gi-Oh! 5D's on www.yugioh.com in the United States. In Canada, Duelists can watch episodes of Yu-Gi-Oh! ARC-V every Friday and Saturday on Teletoon! For more information on KONAMI or the Yu-Gi-Oh! TRADING CARD GAME, please visit www.yugioh-card.com or call 310-220-8630 to speak directly with a Yu-Gi-Oh! customer support team member.
* For items marked with an asterisk, please note that title, packaging, contents and price are subject to change.
About The Yu-Gi-Oh! TCG
The Yu-Gi-Oh! TRADING CARD GAME is the #1 trading card game in the world with over 25 billion cards sold. It is a game of strategy, where players create individual Decks of cards collected from Structure Decks and Booster Packs. Two players engage in a Duel while using cards that represent powerful monsters, magical Spells and surprising Traps. Duelists with well-constructed Decks, dominating monsters, solid strategy and good fortune are the victors in the Yu-Gi-Oh! TCG.  Konami Digital Entertainment, Inc. is the exclusive licensee and rights holder to the Yu-Gi-Oh! TCG in North America and Latin America.
About KONAMI 
KONAMI is a leading developer, publisher and manufacturer of electronic entertainment properties and traditional trading card games. KONAMI's software titles include the popular franchises Metal Gear Solid, Silent Hill, DanceDanceRevolution and Castlevania, among other top sellers.  KONAMI is also the manufacturer of the wildly popular Yu-Gi-Oh! TRADING CARD GAME, which has sold more than 25 billion cards worldwide.  The latest information about KONAMI can be found on the Web at www.konami.com. KONAMI HOLDINGS CORPORATION is a publicly traded company based in Tokyo, Japan with subsidiaries, Konami Digital Entertainment Co., Ltd. in Tokyo, Japan, Konami Digital Entertainment, Inc. in the United States and Konami Digital Entertainment B.V. in Windsor, the United Kingdom. Details of the products published by KONAMI can be found at www.konami.com.
SOURCE Konami Digital Entertainment, Inc.
RELATED LINKS
http://www.konami.com