RETURNING SPONSOR KONAMI DIGITAL ENTERTAINMENT PRESENTS NEW Yu-Gi-Oh! TRADING CARD GAME PRODUCTS AT GAMA TRADE SHOW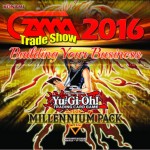 El Segundo, Calif. (March 14, 2016) – Konami Digital Entertainment, Inc. (KONAMI), a returning show sponsor, will be exhibiting its 2016 Yu-Gi-Oh! TRADING CARD GAME (TCG) portfolio at the Game Manufacturers Association (GAMA) annual trade show March 14-18 at Bally's Event Center in Las Vegas.   KONAMI will showcase products scheduled to be released later this year at booth #206 and conduct two seminars during the show.
"GAMA allows us to share in-depth details about our 2016 product releases and outline our extensive Organized Play efforts with our core hobby partners," said Yumi Hoashi, Senior Vice President, Card Business for Konami Digital Entertainment, Inc.  "Our one-on-one meetings at the booth, combined with our two seminars, makes for a productive and informative event for all parties."
KONAMI will host two seminars at the GAMA trade show , one on March 15 and one on March 16. During the first seminar, the company will outline their Official Tournament Store (OTS) Program, with a focus on store benefits and Organized Play programs. The second seminar explains the KONAMI Judge Program and how stores will benefit from using registered KONAMI Judges. For more information on KONAMI's extensive Organized Play programs, including opportunities for new players to learn how to play the game, go to www.yugioh-card.com/en/events/organizedplay.html.
Releasing Friday, March 18, and in time for the busy Easter shopping season is Premium Gold: Infinite Gold. This set allows Duelists to add a little dazzle to their collection and it has something for everyone, including dozens of upgraded cards to bling out a player's collection plus 21 new cards for a Duelist's Main Deck and Extra Deck, all gleaming in gold foil technology. Each 5-card Premium Gold: Infinite Gold mini-pack contains two Gold Secrets – consisting of popular cards and brand-new, never-before-seen cards and three Gold Rare versions of fan-favorite cards. As a special bonus to all players, scores of Gold Rare cards in the set includes former Yu-Gi-Oh! Championship Series Prize Cards Number 106: Giant Hand and Digvorzhak, King of Heavy Industry, now available for everyone to use. Each box contains three mini-packs for a total of 15 cards.  MSRP: $14.99 per Box.
Retailers will be sure to draw in fans of the Yu-Gi-Oh! TV show on April 15, when the original Yu-Gi-Oh! TV series takes center stage with Millennium Pack as dozens of old favorites get a whole new look alongside brand-new cards from TV that players have been waiting for! This 48-card set includes more than 20 variant artwork illustrations for classic cards like Thousand Dragon, Flame Swordsman, Widespread Ruin, Kunai with Chain, and Celtic Guardian. Millennium Pack also offers famous cards from the TV series that have never been in print before, including Kaiba's ultimate card-drawer, the Card of Demise, and the final version of the mightiest Egyptian God Card: The Winged Dragon of Ra – Immortal Phoenix! MSRP: $1.99 per 5-card Pack.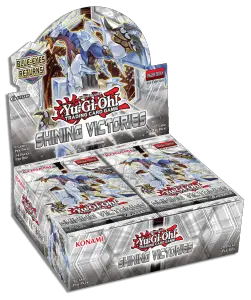 KONAMI delivers big this spring beginning with two May releases. First, is the May 6 release of Shining Victories, the latest Yu-Gi-Oh! TCG core booster set. Appealing to veteran and novice players alike, Shining Victories is a 100-card set with brand-new Deck themes such as Lunalight, Digital Bug, and Amorphage Dragons, and marks the return of Blue-Eyes White Dragon and a plethora of specially crafted "Blue-Eyes" monsters and support cards! Players wanting to get their hands on cards early can attend a Sneak Peek scheduled for April 31 and/or May 1.  MSRP: $3.99 per Pack.
Next is Starter Deck – Yuya releasing on May 27. Designed to teach new Duelists how to Duel, this new Starter Deck is the best vehicle for stores to introduce the Yu-Gi-Oh! TCG to budding Duelists! Fans will be entertained with a 40-card ready-to-play Deck, including 9 brand-new Performapal cards, and three special Token cards. MSRP: $9.99 per Deck.
Rounding-out the spring are two new products that will help Duelists of all skill levels prepare for the summer tournament season and beyond. First, is Shining Victories Special Edition releasing on June 17. Each box of Shining Victories Special Edition comes with three packs of Shining Victories, one of two Super Rares from the upcoming fall booster set, and one of two guaranteed variant cards. MSRP: $9.99 per box.  Then it's Rise of the True Dragons Structure Deck scheduled for a July 15 release. Rise of the True Dragons follows up on May's re-launch of the legendary "Blue-Eyes" theme in Shining Victories with a Deck that includes new high-Level Dragons, new Dragon devotee monsters that are easy-to-Summon and work with ANY high-Level Dragons – plus a brand-new Spell card that Summons any Level 7 or 8 Dragon directly from the Graveyard, with no restrictions! MSRP: $9.99 per Deck.
Between conventions, a new tournament season, and in-store events, Duelists will have plenty of opportunities to put their skills to the test this summer – with plenty of new cards to try!  The Yu-Gi-Oh! TCG makes the dog days bearable and the tournaments more exciting with the launch of two new products in August – The Dark Illusion core booster set August 5 and the Dragons of Legend Unleashed-* special booster August 19. The Dark Illusion kicks off the new tournament season with a compelling 100-card set filled with brand-new Deck themes, 10 never-before-seen cards, support for recent and classic Deck themes, and cues the return of a legendary monster to the Yu-Gi-Oh! TCG – Dark Magician! MSRP: $3.99 per Pack.
The Dragons of Legend -Unleashed-* special booster is the spiritual successor to the popular Dragons of Legend booster sets, composed of numerous foil cards from the Yu-Gi-Oh! manga and animated TV series that have never been printed into actual cards – until now! MSRP: $3.99 per 5-card Pack
Duelists can watch a new episode of Yu-Gi-Oh! ARC-V every Sunday on Nicktoons – check local listings for times. In addition, all-new Yu-Gi-Oh! ZEXAL episodes every Tuesday as well as all of classic Yu-Gi-Oh!, Yu-Gi-Oh! GX, and Yu-Gi-Oh! 5D's can be seen on www.yugioh.com in the United States. In Canada, Duelists can watch episodes of Yu-Gi-Oh! ARC-V every Friday and Saturday on Teletoon! For more information on KONAMI or the Yu-Gi-Oh! TRADING CARD GAME, please visit www.yugioh-card.com or call 310-220-8630 to speak directly with a Yu-Gi-Oh! customer support team member.
* For items marked with an asterisk, please note that title, packaging, contents and price are subject to change.

About The Yu-Gi-Oh! TCG
The Yu-Gi-Oh! TRADING CARD GAME is the #1 trading card game in the world with over 25 billion cards sold. It is a game of strategy, where players create individual Decks of cards collected from Structure Decks and Booster Packs. Two players engage in a Duel while using cards that represent powerful monsters, magical Spells and surprising Traps. Duelists with well-constructed Decks, dominating monsters, solid strategy and good fortune are the victors in the Yu-Gi-Oh! TCG.  Konami Digital Entertainment, Inc. is the exclusive licensee and rights holder to the Yu-Gi-Oh! TCG in North America and Latin America.
About KONAMI
KONAMI is a leading developer, publisher and manufacturer of electronic entertainment properties and traditional trading card games. KONAMI's software titles include the popular franchises Metal Gear Solid, Silent Hill, DanceDanceRevolution and Castlevania, among other top sellers.  KONAMI is also the manufacturer of the wildly popular Yu-Gi-Oh! TRADING CARD GAME, which has sold more than 25 billion cards worldwide.  The latest information about KONAMI can be found on the Web at www.konami.com. KONAMI HOLDINGS CORPORATION is a publicly traded company based in Tokyo, Japan with subsidiaries, Konami Digital Entertainment Co., Ltd. in Tokyo, Japan, Konami Digital Entertainment, Inc. in the United States and Konami Digital Entertainment B.V. in Windsor, the United Kingdom. Details of the products published by KONAMI can be found at www.konami.com.