The new Forbidden & Limited List, effective August 29, 2016, has been released.
We have the list with all its changes here, The new ban list takes effect on August 29, 2016.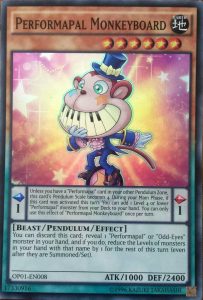 NEWLY FORBIDDEN
Performapal Monkeyboard
Kaiser Colosseum
NEWLY LIMITED
Cir, Malebranche of the Burning Abyss
Ehther the Heavenly Monarch
Kozmo Dark Destroyer
Majespecter Unicorn – Kirin
Beatrice, Lady of the Eternal
Emergency Teleport
Pantheism of the Monarchs
Pendulum Call
The Monarchs Stormforth
NEWLY SEMI-LIMITED
Maxx "C"
Thunder King Rai-Oh
Wind-Up Magician
NEWLY UNLIMITED
Thousand-Eyes Restrict
Allure of Darkness
Gold Sarcophagus
The banlist is constantly updated and changed. Some cards that are forbidden now may become limited in the future and vice versa. Yu-Gi-Oh! World will be sure to keep you updated on these changes!