ASPIRING VOICEOVER ARTISTS IN MINNEAPOLIS GET ONCE-IN-A-LIFETIME OPPORTUNITY TO WIN A ROLE IN THE NEW Yu-Gi-Oh! THE DARK SIDE OF DIMENSIONS MOVIE
 MINNEAPOLIS – October 13, 2016 – Have you ever dreamed of working as a voiceover artist? On October 15 and 16, those dreams could come true when 4K Media, Inc., the Konami Digital Entertainment, Inc. subsidiary that manages the global Yu-Gi-Oh! media and entertainment brand, presents a once-in-a-lifetime opportunity for all aspiring voiceover artists in Minneapolis to audition for a speaking role in its upcoming North American release of Yu-Gi-Oh! THE DARK SIDE OF DIMENSIONS.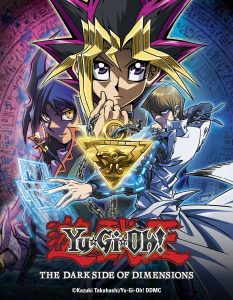 "Given the phenomenal response to the first voiceover contest at our Orlando Tournament and the huge fan base sure to attend the Yu-Gi-Oh! Trading Card World Championship Tournament in Minneapolis, we decided to open the auditions again for voiceover parts," says Jennifer Coleman, Vice President of Licensing and Marketing at 4K Media. "We will be selecting two more winners who will each get a spoken line in the North American version of the movie and their names in the film's end credits. Yu-Gi-Oh! fans are passionate about the brand, and we are pleased to provide this exciting opportunity for them to be part of the movie."
On Saturday, October 15, and Sunday, October 16, 4K Media will be holding open auditions during the Yu-Gi-Oh! Trading Card World Championship Tournament event being held at the Minneapolis Convention Center in Hall D (1301 2nd Avenue South, Minneapolis 55403). Auditions begin at 10:30 a.m. and go until 12:30 p.m. on both Saturday and Sunday, with additional audition times from 3 p.m. to 6 p.m. on Saturday, October 15, and from 2 p.m. to 4 p.m. on Sunday, October 16.
With auditions open to all U.S. citizens ages 8 and up, Yu-Gi-Oh! fans and aspiring voice actors will be judged on overall sound quality of their voice, uniqueness of their voice, appropriateness to the character and creative execution of the line. Audition participants1 must present proof of age and residency, and a photo ID. Minors under the age of 18 must have an adult present to register and audition. Official rules for the audition competition are available online at yugioh.com and will also be posted at the event.
Two winners (one male and one female) will be selected for one of two extra character roles (minor part, approximately 1 line) appearing in the upcoming Yu-Gi-Oh! movie and will be notified on or about November 16, 2016. Winners' voices will be included in the North American version of the movie and the winners' names will appear in the movie's end credit roll and on corresponding DVD editions. Limit one speaking role per winner.
To best prepare for the audition, voice training experts advise all participants to warm up ahead of time by drinking plenty of water, taking a deep breathe and giving it your best shot. That's what helped Lindsay Victoria Granduke and Tyler Schmauch win their roles as a Lab Technician and a Policeman during auditions held at Yu-Gi-Oh! TRADING CARD GAME World Championship Tournament in Orlando, Florida in August.

In Yu-Gi-Oh! THE DARK SIDE OF DIMENSIONS, the stakes have never been higher; the rivalries never as fierce; the risks never so great. One wrong move—one card short—and it's game over for good. A decade in the making, Yu-Gi-Oh! THE DARK SIDE OF DIMENSIONS features new designs and an all-new story from the original creator of the global phenomenon, Kazuki Takahashi. His masterful tale features anime's most beloved characters in their long-awaited return: Yugi Muto, Seto Kaiba and their faithful friends Joey Wheeler, Tristan Taylor Téa Gardner and Bakura. It's the most highly anticipated re-YU-nion ever!
In addition to the Yu-Gi-Oh! TRADING CARD GAME, video games and feature films, the brand also includes the Yu-Gi-Oh! animated franchise, with over 700 episodes spanning from the first series Yu-Gi-Oh! DUEL MONSTERS, followed by Yu-Gi-Oh! GX, Yu-Gi-Oh! 5D's, Yu-Gi-Oh! ZEXAL and Yu-Gi-Oh! ARC-V.
About 4K Media
New York City-based 4K Media Inc. (a wholly owned subsidiary of Konami Digital Entertainment, Inc.) is a brand management and production company best known for its management of the Yu-Gi-Oh! franchise outside of Asia. This year, the Yu-Gi-Oh! anime brand celebrates its 15th anniversary of entertaining and engaging young audiences in the United States and globally outside of Asia.  2017 marks its next exciting theatrical release, Yu-Gi-Oh!  THE DARK SIDE OF DIMENSIONS.  Beyond Yu-Gi-Oh!, 4K Media is also actively expanding both its licensing and production slate to incorporate other brands including the recently announced representation of Rebecca Bonbon. The Yu-Gi-Oh! website is available at www.yugioh.com