MANGA ENTERTAINMENT TEAMS UP WITH 4K MEDIA TO BRING "Yu-Gi-Oh! THE DARK SIDE OF DIMENSIONS" TO CINEMAS IN THE UK AND IRELAND
Film to be Distributed Exclusively by Manga Entertainment with February 1st Opening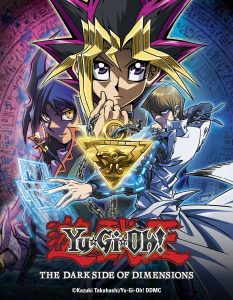 London, UK – October 27th, 2016 – Manga Entertainment, a national distributor of Japanese animation in the UK, has formed an alliance with 4K Media to distribute the highly anticipated Yu-Gi-Oh! THE DARK SIDE OF DIMENSIONS movie to over 120 cinemas across the UK and Ireland. The feature film will be released on February 1st, 2017 and run as a limited-time theatrical engagement.
In Yu-Gi-Oh! THE DARK SIDE OF DIMENSIONS, the stakes have never been higher; the rivalries never as fierce; the risks never so great. One wrong move—one card short—and it's game over for good. A decade in the making, Yu-Gi-Oh! THE DARK SIDE OF DIMENSIONS features new designs and an all-new story from the original creator of the global phenomenon, Kazuki Takahashi. His masterful tale features anime's most beloved characters in their long-awaited return: Yugi Muto, Seto Kaiba and their faithful friends Joey Wheeler, Tristan Taylor, Téa Gardner and Bakura. It's the most highly anticipated re-YU-nion ever! Watch official trailer HERE.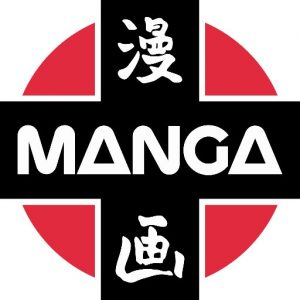 "Yu-Gi-Oh! THE DARK SIDE OF DIMENSIONS is the film fans have been waiting 10 years for, and we are absolutely delighted to be bringing this to audiences in the UK and Ireland. This is an amazing opportunity for us to work closely with 4K Media to showcase this fantastic film to original fans as well as introduce the brand to a whole new generation," said Andrew Hewson, Marketing Manager of Manga Entertainment. "For a limited time only you can catch your favourite Yu-Gi-Oh! characters up on the big screen in their latest action-packed adventure!"
Partial theater listings for United Kingdom and Ireland: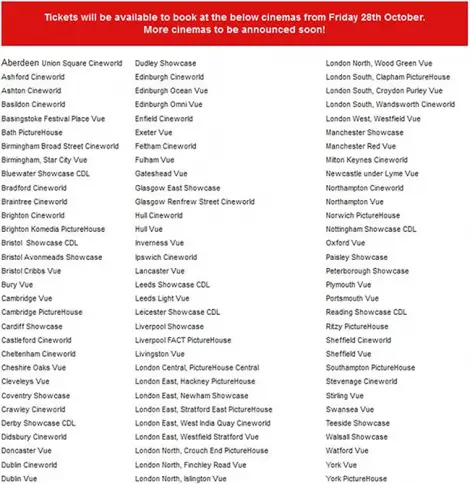 "With its successful history of distributing top anime brands throughout the United Kingdom and Ireland, Manga Entertainment was our natural choice to take on this important role for the theatrical release of Yu-Gi-Oh! THE DARK SIDE OF DIMENSIONS," said Kristen Gray, 4K Media's SVP of Operations, Business and Legal Affairs. "Kazuki Takahashi has envisioned another must-see adventure for Yugi and his friends that will surely delight existing fans while creating new ones."
ABOUT MANGA ENTERTAINMENT
Founded in 1987, Manga Entertainment began as a producer, licensor and distributor of Japanese animation in the United Kingdom, quickly earning its reputation as the UK's largest and best anime distributor with revered anime brands including Ghost in the Shell, Dragon Ball Z, Naruto, One Piece, Bleach and Death Note.
Headquartered in London, Manga Entertainment continues to specialize in the licensing, marketing and distribution of Japanese animation and other beloved new/classic pop culture franchises like Halo, Transformers, Pokémon and Yu-Gi-Oh! Find out more at www.mangauk.com. 
ABOUT 4K MEDIA
New York City-based 4K Media Inc. (a wholly owned subsidiary of Konami Digital Entertainment, Inc.) is a brand management and production company best known for its management of the Yu-Gi-Oh! franchise outside of Asia. This year, the Yu-Gi-Oh! anime brand celebrates its 15th anniversary of entertaining and engaging young audiences in the United States and globally outside of Asia.
2017 marks its next exciting theatrical release, Yu-Gi-Oh! THE DARK SIDE OF DIMENSIONS. Beyond Yu-Gi-Oh!, 4K Media is also actively expanding both its licensing and production slate to incorporate other brands including the recently announced representation of Rebecca Bonbon. The Yu-Gi-Oh! website is available at www.yugioh.com.