GALILEO DE OBALDIA TOPS DUELISTS AT BRAZILIAN Yu-Gi-Oh! CHAMPIONSHIP SERIES AND DRAGON DUEL WINNER ENZO SALVIATI ALSO BRINGS HOME TROPHY IN RIO DE JANEIRO
 This Season Debuts New Prize Card and Game Mat
 El Segundo, Calif.  (November 15, 2016) – With Rio de Janeiro still bustling from the recent Olympic Games, the city happily hosted another competitive contest, this time with the Yu-Gi-Oh! TRADING CARD GAME (TCG) coming to town to crown two winners. The Yu-Gi-Oh! Championship Series (YCS), presented by Konami Digital Entertainment, Inc. (KONAMI), drew hundreds of Yu-Gi-Oh! TCG Duelists to the premier-level event.  The Rio event proved to be a reason to shout "Carnival" for new YCS Rio de Janeiro Champion Galileo De Obaldia, and young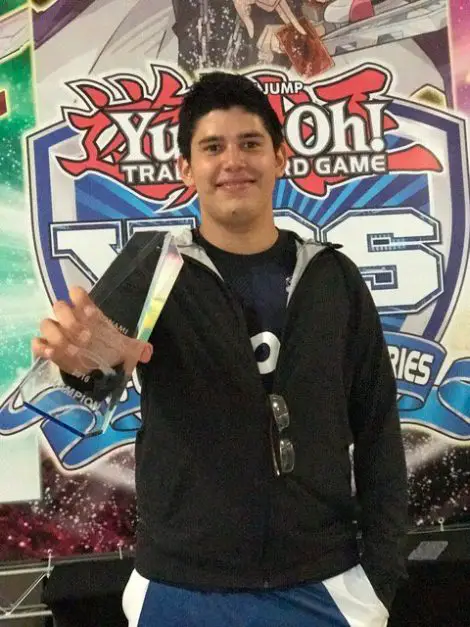 Players of every age and ability showed off their impressive Dueling skills round after round at YCS Rio de Janeiro. From Panama City, Panama, De Obaldia expertly played his ABC Deck to earn him a spot in Day 2 of the tournament. Then, after several rounds of Single Elimination, he faced Andre Courrege from Rio de Janeiro playing a Metalfoes Deck in the final playoff.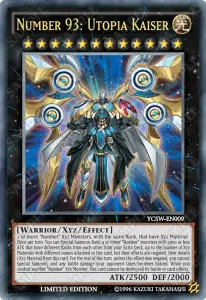 In addition to bringing home the title of YCS Rio de Janeiro Champion, De Obaldia received a special set of prizes that included the new YCS prize card, an Ultra Rare Number 93: Utopia Kaiser, a YCS Championship Trophy, the new YCS Top Cut Game Mat, a PlayStation®4 computer entertainment system, and an invitation and paid travel to his 2017 World Championship Qualifier (WCQ) tournament!
Another exciting series of Duels happened during the Dragon Duel Championship, an event for Duelists born in 2004 or later. Enzo Salviati from Sao Paulo, Brazil used his Constructed Deck throughout the weekend all of the way to the finals.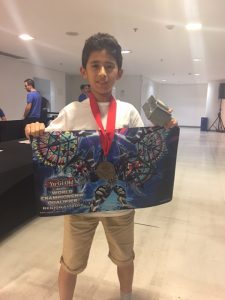 Salviati's skill and strategy proved to be the winning combination as he beat Lucas Cajueiro to capture the title of Dragon Duel YCS Rio de Janeiro Champion. He picked up some great prizes too, including a Dragon Duel Championship Trophy, Dragon Duel Medal, a Regional Deck Box, a 2017 Regional Game Mat, and an invitation to his 2017 Dragon Duel World Championship Qualifier.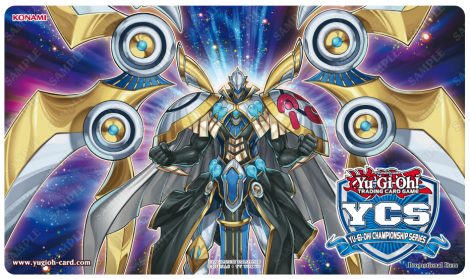 Duelists can watch a new episode of Yu-Gi-Oh! ARC-V every Sunday on Nicktoons – check local listings for times. In addition, all-new Yu-Gi-Oh! ZEXAL episodes every Tuesday as well as all of Yu-Gi-Oh!, Yu-Gi-Oh! GX, and Yu-Gi-Oh! 5D's can be seen on www.yugioh.com in the United States. In Canada, Duelists can watch episodes of Yu-Gi-Oh! ARC-V every Friday and Saturday on Teletoon! For more information on KONAMI or the Yu-Gi-Oh! TRADING CARD GAME, please visit www.yugioh-card.com or call 310-220-8630 to speak directly with a Yu-Gi-Oh! customer support team member.
About The Yu-Gi-Oh! TCG
The Yu-Gi-Oh! TRADING CARD GAME is the #1 trading card game in the world with over 25 billion cards sold. It is a game of strategy, where players create individual Decks of cards collected from Structure Decks and Booster Packs. Two players engage in a Duel while using cards that represent powerful monsters, magical Spells and surprising Traps. Duelists with well-constructed Decks, dominating monsters, solid strategy and good fortune are the victors in the Yu-Gi-Oh! TCG.  Konami Digital Entertainment, Inc. is the exclusive licensee and rights holder to the Yu-Gi-Oh! TCG in North America and Latin America.
About KONAMI
KONAMI is a leading developer, publisher and manufacturer of electronic entertainment properties and traditional trading card games. KONAMI's software titles include the popular franchises Metal Gear Solid, Silent Hill, DanceDanceRevolution and Castlevania, among other top sellers.  KONAMI is also the manufacturer of the wildly popular Yu-Gi-Oh! TRADING CARD GAME, which has sold more than 25 billion cards worldwide.  The latest information about KONAMI can be found on the Web at www.konami.com. KONAMI HOLDINGS CORPORATION is a publicly traded company based in Tokyo, Japan with subsidiaries, Konami Digital Entertainment Co., Ltd. in Tokyo, Japan, Konami Digital Entertainment, Inc. in the United States and Konami Digital Entertainment B.V. in Windsor, the United Kingdom. Details of the products published by KONAMI can be found at www.konami.com