4K MEDIA ANNOUNCES INTERNATIONAL THEATRICAL DISTRIBUTORS FOR Yu-Gi-Oh! THE DARK SIDE OF DIMENSIONS
U.S. & Canadian Movie Premiere and Opening Set For January 2017
NEW YORK – November 29, 2016 – 4K Media Inc., the Konami Digital Entertainment, Inc. subsidiary that manages the global Yu-Gi-Oh! brand outside of Asia, announced today that it has secured theatrical distribution agreements in four key global territories for its upcoming Yu-Gi-Oh! THE DARK SIDE OF DIMENSIONS movie.
The film will be released in the following territories with the following partners:
Australia and New Zealand, Madman Entertainment – opening in early 2017
United Kingdom and Republic of Ireland, Manga Entertainment LTD – opening on February 1, 2017
Italy, San Marino and Monte Carlo, Dynit SrL – opening March 10, 2017
Germany and Austria, KSM GmbH – opening in early 2017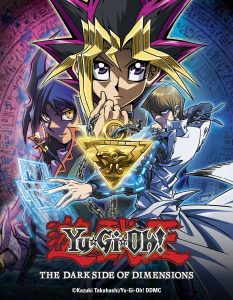 In making the announcement, Kristen Gray, 4K Media's SVP of Operations, Business and Legal Affairs, stated:
"With these partnerships, Yu-Gi-Oh! fans around the globe will be able to experience Yu-Gi-Oh! THE DARK SIDE OF DIMENSIONS on the big screen. We are pleased to be partnering with companies that are well versed in the distinctions of releasing anime theatrically and that understand both their local audiences and the unique interests of our anime fans."
In Yu-Gi-Oh! THE DARK SIDE OF DIMENSIONS, the stakes have never been higher; the rivalries never as fierce; the risks never so great. One wrong move—one card short—and it's game over for good. A decade in the making, Yu-Gi-Oh! THE DARK SIDE OF DIMENSIONS features new designs and an all-new story from the original creator of the global phenomenon, Kazuki Takahashi. His masterful tale features anime's most beloved characters in their long-awaited return: Yugi Muto, Seto Kaiba and their faithful friends Joey Wheeler, Tristan Taylor, Téa Gardner and Bakura. It's the most highly anticipated re-YU-nion ever!
As previously announced, Screenvision Media, a national cinema advertising leader, has formed an alliance with 4K Media to distribute Yu-Gi-Oh! THE DARK SIDE OF DIMENSIONS movie to over 500 theatres across the United States and Canada. The feature film, confirmed for a two-week limited-time engagement, will now be released nationwide on January 27, 2017.  Yu-Gi-Oh! THE DARK SIDE OF DIMENSIONS will premiere in New York City on January 24th. 4K Media is running a sweepstakes on yugioh.com from November 18 – December 2, 2016 giving fans a chance to win a trip to New York City and attend the premiere.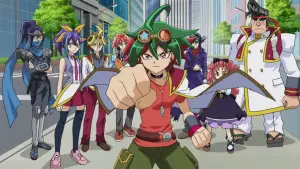 In addition to the Yu-Gi-Oh! TRADING CARD GAME, video games and feature films, the brand also includes the Yu-Gi-Oh! animated franchise, with over 700 episodes spanning from the first series "Yu-Gi-Oh!" Duel Monsters, followed by "Yu-Gi-Oh! GX", "Yu-Gi-Oh! 5D's", "Yu-Gi-Oh! ZEXAL" and "Yu-Gi-Oh! ARC-V."
About 4K Media Inc.
New York City-based 4K Media Inc. (a wholly owned subsidiary of Konami Digital Entertainment, Inc.) is a brand management and production company best known for its management of the Yu-Gi-Oh! franchise outside of Asia. This year, the Yu-Gi-Oh! anime brand celebrates its 15th anniversary of entertaining and engaging young audiences in the United States and globally outside of Asia.  The year 2017 marks its next exciting theatrical release, Yu-Gi-Oh!  THE DARK SIDE OF DIMENSIONS.  Beyond Yu-Gi-Oh!, 4K Media is also actively expanding both its licensing and production slate to incorporate other brands including the recently announced representation of Rebecca Bonbon. The Yu-Gi-Oh! website is available at www.yugioh.com