Yu-Gi-Oh! THE DARK SIDE OF DIMENSIONS hits theaters in the U.S. on January 27th!
The latest trailer from The Dark Side of Dimensions movie shows all of the familiar faces.. there is Yugi, Kaiba and the rest of the gang appearing in the new film but the biggest part of the new movie is the introduction of a new antagonist.
Special Two Week Theater Engagement!  January 27th through February 9th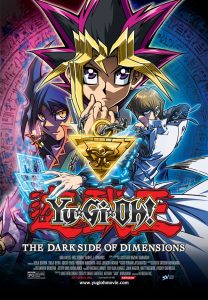 Tickets are now available! Visit http://Yugiohtickets.com
In The Dark Side of Dimensions the stakes have never been higher; the rivalries never as fierce; the risks never so great. One wrong move—one card short—and it's game over for good. A decade in the making, Yu-Gi-Oh! The Dark Side of Dimensions features new designs and an all-new story from the original creator of the global phenomenon, Kazuki Takahashi. His masterful tale features anime's most beloved characters in their long-awaited return: Yugi Muto, Seto Kaiba, and their faithful friends Joey Wheeler, Tristan Taylor Téa Gardner, and Bakura. It's the most highly anticipated re-YU-nion ever!
© Kazuki Takahashi/Yu-Gi-Oh! DDMC
For further updates on Yu-Gi-Oh! check out www.yugioh.com
So are you going to the Yu-Gi-Oh! THE DARK SIDE OF DIMENSIONS Movie opening? Any of the special showings Do you want to see it bit its not showing near you  Let us know in the comments.