JANUARY Yu-Gi-Oh! TRADING CARD GAME PRODUCTS
KONAMI RINGS IN 2017 WITH TWO NEW Yu-Gi-Oh! TRADING CARD GAME PRODUCTS
El Segundo, Calif. (January 5, 2017) – Yu-Gi-Oh! TRADING CARD GAME (TCG) players will have plenty of reason to celebrate the new year when Konami Digital Entertainment, Inc. (KONAMI) releases two new products this month: Movie Pack Gold Edition and Pendulum Domination Structure Deck. Duelists nationwide will say "cheers!" to a new year of casual games and tournaments as they delve into these two must-have products.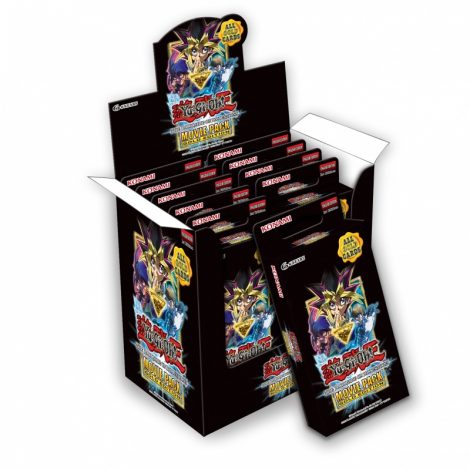 There's no better way to celebrate the January 27 release of the new feature-length film, Yu-Gi-Oh! The Dark Side of Dimensions, than by bringing home the monsters used by the stars on the silver screen with the Movie Pack Gold Edition, in stores January 13.  From Kaiba's Neo Blue-Eyes Ultimate Dragon to Yugi's Apple Magician Girl and the menacing Aigami's Crimson Nova Trinity the Dark Cubic Lord, Movie Pack Gold Edition includes all the movie-exclusive cards fans need to recreate film-based Decks of their favorite heroes or villains.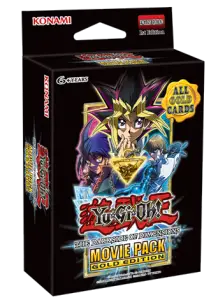 The cards for Blue-Eyes White Dragon Decks and Dark Magician Decks are fully compatible with the cards from Shining Victories and The Dark Illusion, as well as Structure Deck: Yugi Muto and Structure Deck: Seto Kaiba. More cards used by Yugi and Kaiba can be found in Legendary Decks II and Dragons of Legend -Unleashed-. Plus, exclusive to this release, each Movie Pack Gold Edition comes with a Gold Secret Rare Krystal Dragon or Duza the Meteor Cubic Vessel. Fans will also be treated to either Dark Magician or Blue-Eyes White Dragon, Yugi and Kaiba's signature monsters, appearing as Gold Secret Rares for the first time!
Each card in this 57-card set uses Gold Rare technology to give them that glamorous Hollywood look from yesteryear, and each Movie Pack Gold Edition contains three 5-card packs in a flat rarity system (all cards are equally rare) for $9.99 MSRP per box.
Duelists who have made a New Year's resolution to buckle down and win each match need to pick-up the Pendulum Domination Structure Deck on January 20 as their first move. This 43-card Deck is all about planning and executing the perfect strategy for every Duel and gives Duelists full command of Fusion, Synchro, and Xyz Monsters by employing a unique Pendulum Summoning strategy based around "D/D" monsters and "Dark Contract" cards.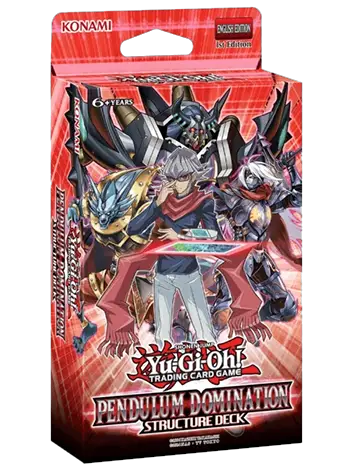 "Dark Contract" cards allow players to put the pieces of the puzzle in place by moving "D/D" monsters to a player's hand, field, or even to Pendulum Zones. These cards can even give monsters a massive ATK boost, prevent interference from Trap Cards, or break the basic rules of Fusion Summoning. In addition, the Pendulum Domination Structure Deck includes reusable "D/D" Tuner monsters for Synchro Summoning, and Spell Cards that let players Fusion Summon every single turn or even use monsters in a player's Graveyard as Fusion Material.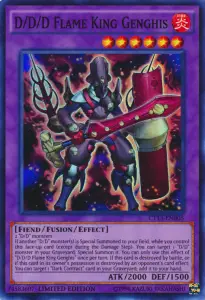 With all these new January Yu-Gi-Oh! TRADING CARD GAME "D/D" monsters, Duelists who were lucky enough to get the 2016 Mega-Tins can now unleash the maximum potential of D/D/D Flame King Genghis and D/D/D Gust King Alexander to create even more exciting and powerful card combinations, and those are just some of the many "D/D" cards from the 2016 Mega-Tin Mega-Packs. Plus, "D/D" Pendulum Monsters can also be found in The Dark Illusion, and players can expect even more new cards that will enhance this strategy in upcoming 2017 products.  Pendulum Domination Structure Deck contains 43 cards: 38 Commons, 2 Ultra Rares, 3 Super Rares, 1 Beginner's Guide and 1 Double-sided Deluxe Game Mat/Dueling Guide for $9.99 MSRP per box.
Duelists can watch a new episode of Yu-Gi-Oh! ARC-V every Sunday on Nicktoons – check local listings for times. In addition, all-new Yu-Gi-Oh! ZEXAL episodes every Tuesday as well as all of classic Yu-Gi-Oh!, Yu-Gi-Oh! GX, and Yu-Gi-Oh! 5D's can be seen on www.yugioh.com in the United States. In Canada, Duelists can watch episodes of Yu-Gi-Oh! ARC-V every Friday and Saturday on Teletoon! For more information on KONAMI or the Yu-Gi-Oh! TRADING CARD GAME, please visit www.yugioh-card.com or call 310-220-8630 to speak directly with a Yu-Gi-Oh! customer support team member.
About The Yu-Gi-Oh! TCG
The Yu-Gi-Oh! TRADING CARD GAME is the #1 trading card game in the world with over 25 billion cards sold. It is a game of strategy, where players create individual Decks of cards collected from Structure Decks and Booster Packs. Two players engage in a Duel while using cards that represent powerful monsters, magical Spells and surprising Traps. Duelists with well-constructed Decks, dominating monsters, solid strategy and good fortune are the victors in the Yu-Gi-Oh! TCG. Konami Digital Entertainment, Inc. is the exclusive licensee and rights holder to the Yu-Gi-Oh! TCG in North America and Latin America.
About KONAMI
KONAMI is a leading developer, publisher and manufacturer of electronic entertainment properties and traditional trading card games. KONAMI's software titles include the popular franchises Metal Gear Solid, Silent Hill, DanceDanceRevolution and Castlevania, among other top sellers. KONAMI is also the manufacturer of the wildly popular Yu-Gi-Oh! TRADING CARD GAME, which has sold more than 25 billion cards worldwide. The latest information about KONAMI can be found on the Web at www.konami.com. KONAMI HOLDINGS CORPORATION is a publicly traded company based in Tokyo, Japan with subsidiaries, Konami Digital Entertainment Co., Ltd. in Tokyo, Japan, Konami Digital Entertainment, Inc. in the United States and Konami Digital Entertainment B.V. in Windsor, the United Kingdom. Details of the products published by KONAMI can be found at www.konami.com.