New reward cards!
New cards will be released on February 13th at 7 AM GMT+00:00 after the maintenance, or check your in-game announcement about the news to see what time it will be in your timezone.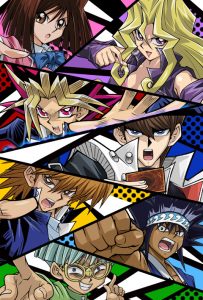 Each "Legendary Duelist" will have their new specific cards that can be obtained. These "Legendary Duelist" include the likes of Yami Yugi, Seto Kaiba, and many more. Each of them will get one new super rare (SR) card that can only be attained if you are able to reach level 30 or higher.
In addition, N (normal) and R (rare) rarity cards will also be dropped along with the SR cards in this update. Take note that there will be no cards removed from the current pool of rewards.
There is a total of 11 new Legendary Duelists SR cards that will be distributed to their respective "Duelists."
First off is Yami Yugi and his "Gaia the Dragon Champion" card. This card has a three rank rating and is a good addition to decks with the likes of "Red-Eyes B. Dragon," "Meteor Dragon," "Thunder Dragon" and "Blue Dragon Summoner." These cards are very easy to use and can get good scores after each duel.
Mako Tsunami's "Phantom Dragonray
Bronto" card is also a high-ranking 7 card. This card allows a massive 2,400 attack damage from a level 4 card.
Next up is Joey Wheeler's card, "Gilford the Lightning." This is a powerful high-level card with a rating of 7.5. Using this will allow Joey to easily clear the monster field.
As for Mai Valentine's card, we have the "Amazoness Swords Woman" which has a rating of 8. Using this card will allow her to damage herself. The damage you received will then be reflected to the enemy.
Seto Kaiba will have the "Familiar King" card in this update. This card will allow easier summoning of cards to level 4. Furthermore, this card has a rating of 7 which means that this card is included in the game's list of powerful cards.
Other SR cards include:
Dian Keto the Cure Master – Tea Gardner – [6.0]Standard heal card.
Grasschopper – Weevil Underwood – [8.0]A monster that can attack up to 3 times.
Serpent Night Dragon – Rex Raptor – [1.0]High level normal dragon.
Phantom Dragonray Bronto – Mako Tsunami – [7.0]2500 attack from a level 4.
Stim-Pack – Bandit Keith – [7.0]Steroids.
Zolga – Ishizu Ishtar – [8.5]Tribute to heal to Cyber-Stein!
Temple of the Kings – Odion – [7.0]Very useful to activate traps early.