Yu-Gi-Oh! VRAINS TV Anime Premieres in May in New Time Slot
The new Yu-Gi-Oh! anime series finally has a premiere date in Japan. The 16th issue of Shueisha's Weekly Shonen Jump is revealing on Saturday that Yu-Gi-Oh! VRAINS, the upcoming sixth anime in the Yu-Gi-Oh! television anime franchise, will premiere in May on TV Tokyo and affiliated stations. The show will move to Wednesday's 6:25 p.m. time slot.
A television special titled Yu-Gi-Oh! Labo will air on April 5 to promote the anime and give fans even more details surrounding the upcoming series.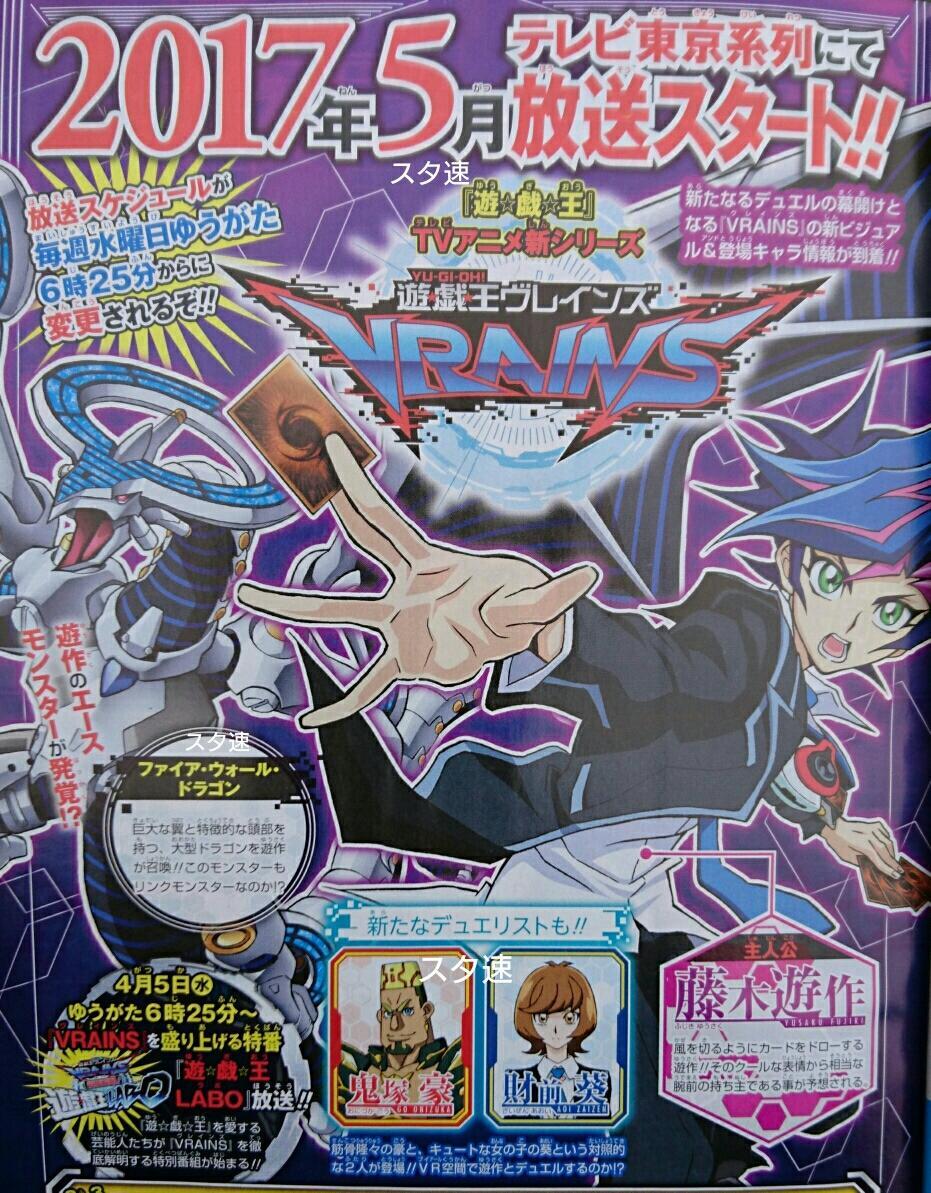 Also revealed are the names of two new characters, Gō Onizuka (鬼塚 豪) and Aoi Zaizen (財前 葵). Go with his large muscles and the cute Aoi debuts!!  Will they duel with Yusaku in the VR Space? Not much else was revealed about these two characters but the cast is beginning to come together.
Yu-Gi-Oh! VRAINS is the sixth series in the franchise and will star Yūsaku Fujiki, who is described as possessing a cool and sharp mind, and has the skills to be a hacker. He excels at quickly judging the situation at any place, and determining the thoughts of whomever he is talking to.
The series seems to revolve around virtual reality as promotional material shows Fujiki in plain clothes, but also transforming in a virtual space.
Fujiki's ace monster, Decode Talker, is also shown in promotional material and the series teases a brand new way to play Duel Monsters. Konami has revealed that a new way of summoning will be introduced in time for VRAINS' premiere.
Link Summoning will be a whole summoning that doesn't have a level or defense points. The rules of the Yu-Gi-Oh! TCG will also change with the implementation of Link Summoning that will seemingly slow the game down.