UDON's latest Yu-Gi-Oh! art book is in exceptionally high demand, with more stock  already on the way
Toronto, ON – MAY 10, 2017 – It's time to duel, Yu-Gi-Oh! fans! UDON Entertainment's Yu-Gi-Oh! The Art of the Cards has arrived. At just over 150 pages and featuring over 800 cards, this prestigious hardcover volume is absolutely jam-packed with content, showcasing the intricately detailed artwork seen on key playable cards featured in the original Yu-Gi-Oh! Duel Monsters animated series.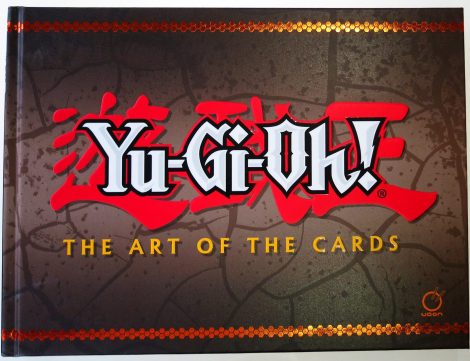 If you haven't gotten your copy yet, you'd better act fast! Having been met with overwhelming demand, Yu-Gi-Oh! The Art of the Cards quickly sold out at the distributor level and is already becoming hard to find in stores. As of this writing, Amazon.com and BarnesAndNoble.com still have the book in stock – but not for long, so make sure to secure your copy today!
Of course, UDON remains committed to ensuring that all of our hottest titles remain available and accessible to fans around the world, so a second printing of Yu-Gi-Oh! The Art of the Cards is already on the way. But that won't be ready for a few months.   So if you just can't wait to get your hands on this book, you'd better head to your favorite retailer faster than you can say "Blue-Eyes White Dragon!"
Yu-Gi-Oh! The Art of the Cards is available for purchase now in very limited quantities at finer comic book stores, book retailers, and various online retailers, with a second printing to follow this summer.
Interior preview pages for Yu-Gi-Oh! The Art of the Cards: 
Yu-Gi-Oh! THE ART OF THE CARDS
ISBN: 978-1772940350
DETAILS: 152pg, 8.5×11.5″, Full Color, Hardcover
MSRP: $39.99 USD
STATUS: Available now, second printing coming Summer 2017
ABOUT UDON ENTERTAINMENT
UDON Entertainment is a publisher of original and translated art books, graphic novels, and manga. UDON boasts an incredible lineup of highly sought-after products with production quality and English localization work that is second to none. Our best-known projects are those based on popular video game franchises, including Street Fighter, Okami, Mega Man, Dark Souls, Persona, Bayonetta, Valkyria Chronicles, Sonic the Hedgehog, and many more. UDON also publishes books based on top anime properties including Neon Genesis Evangelion, Gurren Lagann, and Haruhi Suzumiya as well as completely original projects like RandomVeus, Makeshift Miracle, and Substrata.
ABOUT 4K MEDIA INC.
New York City-based 4K Media Inc. (a wholly owned subsidiary of Konami Digital Entertainment, Inc.) is a brand management and production company best known for its management of the Yu-Gi-Oh! franchise outside of Asia. This year, the Yu-Gi-Oh! anime brand celebrates its 16th anniversary of entertaining and engaging young audiences in the United States and globally outside of Asia through its TV series (over 800 episodes), three feature films, consumer products, the mobile game Yu-Gi-Oh! Duel Links, as well as the immensely popular trading card game.  Beyond Yu-Gi-Oh!, 4K Media is actively expanding its licensing and production slate to incorporate other brands such as Rebecca Bonbon. The Yu-Gi-Oh! website is available at www.yugioh.com