Yu-Gi-Oh! The Movie: Pyramid of Light will be screened for one day only on Wednesday 13th June 2018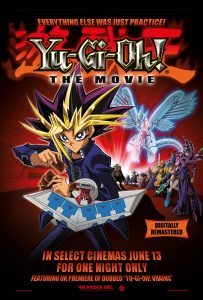 Distributor Manga UK (Manga Animatsu) have announced today that they will be bringing back the 2004 film Yu-Gi-Oh! The Movie: Pyramid of Light to the UK for theatrical screens across the nation!
Theatrical Dates & Details:
Yu-Gi-Oh! The Movie: Pyramid of Light will be screened on Wednesday 13th June 2018 in English audio. The film has been digitally remastered since its DVD release many years back.
In addition to the film, there will also be a special bonus feature! Fans will be able to watch a sneak peak of the official English dub for Yu-Gi-Oh! VRAINS with its first episode. VRAINS is the sixth series in the Yu-Gi-Oh! franchise following the original, GX, 5D's, Zexal and Arc-V. VRAINS is also streaming on Crunchyroll in its original Japanese audio with English subtitles.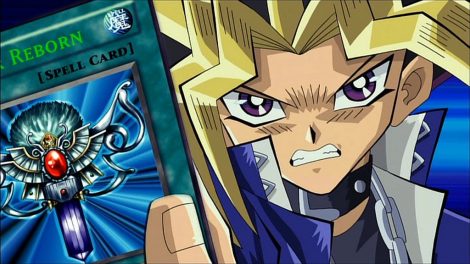 The official cinema page for the film can be viewed here.
Cinema Locations:
Manga have confirmed that the film will be screened across 30 different locations throughout the UK. Here are the confirmed sites so far:
ODEON – Listings Coming Soon
Belfast
Brahead
Cardiff
Kingston
Liverpool One
London Greenwich
London Haymarket
London Wimbledon
Manchester Great Northern
Milton Keynes Stadium
Bluewater
Bristol
Cardiff
Coventry
Derby
Dudley
Glasgow
Leeds
Leicester
Liverpool
Manchester
Nottingham
Paisley
Peterborough
Reading
Southamption
Teesside
Walsall
Gateshead
London Shepherds Bush
London Stratford
Manchester Printworks
Newcastle-Under-Lyme
Plymouth
Portsmouth
Plot Synopsis via Manga UK:
In "Yu-Gi-Oh! The Movie", a heroic Yugi squares off against archrival Kaiba in an adventure even more dangerous when the imaginary monsters in their playing cards become ferociously real…and when an old evil enters the fray. Who will win this ultimate smackdown? Whether you're a novice Duelist or a professional, you'll want to watch and find out!
Yu-Gi-Oh! The Movie: Pyramid of Light heads to UK cinemas on 13th June 2018 for one day only.
Source: https://animeuknews.net/