Booster set Legendary Duelists: Sisters of the Rose hitting shelves in January 2019, along with Savage Strike out  in February 2019 and Savage Strike Special Edition hitting in March 2019
Legendary Duelists: Sisters of the Rose* introduces brand-new cards inspired by some of Dueling's most daring strategies from the pantheon of Yu-Gi-Oh! manga and anime series. Whether you want to power a single monster up to stratospheric proportions, create an inhospitable field environment that makes monsters wish they'd never been Summoned, or just endlessly duplicate your favorite monster, you'll have something to look forward to this winter!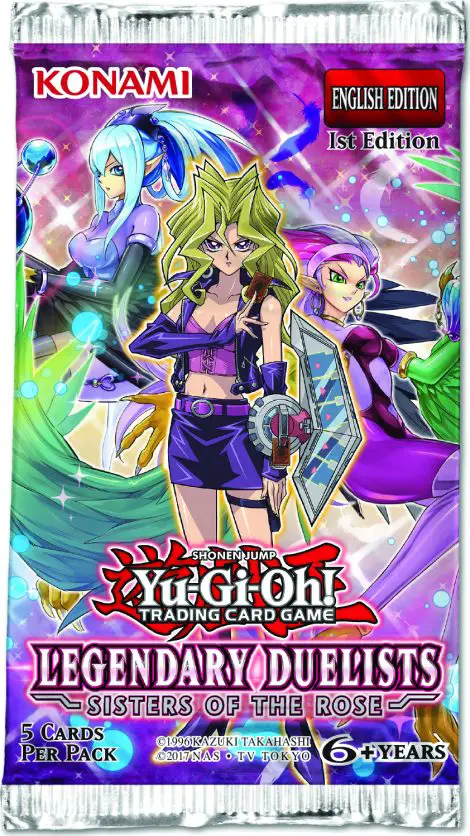 Legendary Duelists: Sisters of the Rose debuts brand-new cards inspired by past heroines of Yu-Gi-Oh! like Mai Valentine and Akiza Izinski. Mai is making her second appearance in the Legendary Duelists series with brand-new cards for her Harpie Lady strategy from the Duelist Kingdom tournament. Mai's strategy was all about duplicating Harpies with Elegant Egotist to Summon Harpie Lady Sisters, and Legendary Duelists: Sisters of the Rose has brand-new cards to help you multiply your Harpies and reward you for playing with the classic Harpie Lady Sisters card!
Alexis Rhodes' Cyber Angel strategy from Yu-Gi-Oh! GX returns! Cyber Angels are Ritual Monsters with battle-focused abilities. Legendary Duelists: Sisters of the Rose introduces a new Cyber Angel that forces your opponent to fight your monsters fairly by letting you destroy a card they control if they target a "Cyber Angel" Ritual Monster with a card effect. Once you've made your opponent commit to battle, you can play a brand-new Continuous Spell that makes it impossible for your Cyber Angels to be destroyed in battle and lets you Ritual Summon during the Battle Phase!
Akiza's deadly Black Garden Field Spell chokes the Attack Points out of any monster Normal or Special Summoned while it's on the field. Legendary Duelists: Sisters of the Rose allows you to create a devastating strategy built around this Field Spell, Akiza's signature Black Rose Dragon Synchro Monster, and as many powerful Plant-Type monsters as you can get your hands on!
All aboard! Get ready to drive the Pain Train straight through your opponent's Life Points with new cards for Anna Kaboom's railway-inspired Xyz Summoning strategy from Yu-Gi-Oh! ZEXAL! Anna's Xyz Monsters normally top out at Rank 10, but Legendary Duelists: Sisters of the Rose goes to 11 with Superdreadnought Rail Cannon Juggernaut Liebe, a Rank 11 Xyz Monster you can play on top of any of your Rank 10 Machine Xyz Monsters. Its effects let you boost its ATK all the way to 6000 and plow through numerous monsters with multiple attacks in the same Battle Phase, shredding your opponent's Life Points in an instant!
All this and more awaits when Legendary Duelists: Sisters of the Rose hits shelves in January!
The complete set of Legendary Duelists: Sisters of the Rose contains 56 cards:
29 Commons
10 Rares
8 Super Rares
9 Ultra Rares
Heat things up this winter with Savage Strike, the first 100-card booster set of 2019! Cybernetic Horizon revitalized Ritual Summoning, and Soul Fusion created powerful Fusion Summoning strategies. Now, Savage Strike is primed to do the same for Synchro Summoning strategies! Here's a taste of what you'll be seeing when Savage Strike launches on February 1st.
Synchro Summoning crashes into the VRAINS!
Duelists closely following the simulcast of Yu-Gi-Oh! VRAINS know that Synchro Summoning has made its first appearance in the latest Yu-Gi-Oh! anime! The first Synchro Monsters from the series will make their real life debut in Savage Strike!
This winter belongs to the undead!
Following on from Hidden Summoners and Structure Deck: Zombie Horde, Savage Strike introduces even more Synchro-based Zombie monsters. The Shiranui theme has been inexorably linked to Zombie Decks since the original release of Shiranui Solitaire, and now it returns in force with both a new Synchro Monster and a new Link Monster that pay dividends in Zombie Synchro strategies!
Return to Neo Space!
Elemental HERO Nebula Neos and Neo Space Connector were just the beginning! More new cards to power up Decks based on Jaden's Elemental HERO Neos are on their way in Savage Strike! You can also find the basic cards you need to build a Neos Deck in Battles of Legend: Relentless Revenge and Shadows in Valhalla.
The Valkyries ride again!
Summer's Shadows in Valhalla was only the beginning! Shadows in Valhalla introduced many of Zigfried von Schroeder's "Valkyrie" cards from the original Yu-Gi-Oh! animated series. More cards from the anime will arrive in Savage Strike along with brand new never-before-seen Valkyries!
And that's not even half of what awaits you in Savage Strike! You can also find a card that annihilates your opponent's hand and field if they negate a Summon or the activation of a card or effect, a Spell that lets you trade part of your Extra Deck for card drawing, new "T.G." monsters, and more!
The Savage Strike booster set contains 100 cards:
48 Commons
20 Rares
14 Super Rares
10 Ultra Rares
8 Secret Rares
The Savage Strike Special Edition, due in March 2019, is jam-packed with value! Not only does it include 3 booster packs of Savage Strike, each box is guaranteed 1 of 2 Super Rare variant cards, as well as 1 of 2 Super Rare preview cards of non-foil cards from the upcoming Spring 2019 booster set!
Each Savage Strike Special Edition contains: 3 Savage Strike booster packs, 1 of 2 Super Rare variant cards and 1 of 2 Super Rare preview cards from the Spring 2019 booster set.
Keep watch on the Yu-Gi-Oh! TRADING CARD GAME product page to find out what variant and preview cards will be included in the Special Edition! http://www.yugioh-card.com/en/products/se-sast.html
*Name and content subject to change.