The holiday season is upon us, and brands are cozying up to Christmas lovers in any way they can. From sales to kitschy jingles, retailers will do whatever it takes to ring in some holiday cheer, and Yu-Gi-Oh! just took that dedication to a whole new level.A new exclusive Yu-Gi-Oh! shirt design is available now!
It's Time to Yule!
After all, the franchise just released a holiday remix of its theme song, and fans will never be ready to duel the same again.
Over on Youtube, Yu-Gi-Oh! piqued interest after the official account posted a new video. The clip runs just over two minutes, but it will be the best use of time for anime fans this month. The series did just shake up its original theme, and the track is appropriately titled "It's Time to Yule". And, no — this isn't a joke. But that wasn't all…
For a limited time this holiday, interested fans can pick up yule inspired Yu-Gi-Oh! shirts bearing a hilarious twist on an old favorite.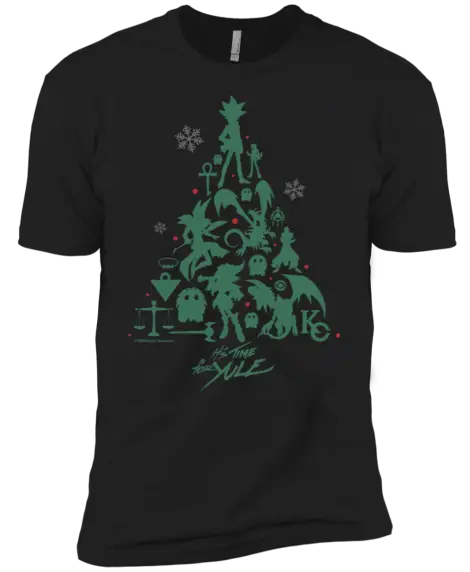 Only available for a limited time! https://shopyugioh.com/collections/exclusive
Bearing the tagline "It's Time to Yule!," which is a reference to the "It's Time to Duel" often yelled out during the English dubbed version of the original series, the holiday shirts feature various character silhouettes outlined along a Christmas tree design. Along with the silhouettes of various heroes like Yami Yugi, Seto Kaiba, and Joey Wheeler, there are also shout outs to the series' famous monsters.
You can find more information about the holiday Yu-Gi-Oh! shirts at the following this link here, and they begin at $23.95 USD in both long and short sleeve variations.