BANDAI has now brought Yu-Gi-Oh!'s Magical Hats card to life with a awesome plush release. A favorite of protagonist Yugi Moto and his spirit entity Yami Yugi, in the manga/anime the trap card was often used to protect and conceal a monster during a potentially devastating attack by an opponent.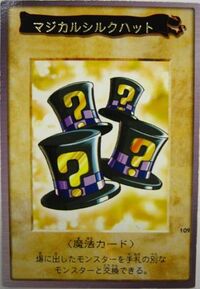 Part of the BANDAI FASHION COLLECTION, the classic card art for Magical Hats has been turned into plush items that can be worn on one's head. Measuring 35 x 45 x 27 cm, the illustration fueled top hat features a black base decorated with a large yellow question mark accented by a checkerboard pattern near the brim.
Priced at ¥6,050 JPY (approximately $57 USD), the Yu-Gi-Oh! Magical Hats Plush is now available for pre-order on BANDAI FASHION COLLECTION with shipping set for November. 
This slideshow requires JavaScript.
Official Description:

The magical top hat that appeared in the TV anime "Yu-Gi-Oh! Duel Monsters" comes up as a cushion! !!

If you collect more than one Magical Hats Plush, you can completely reproduce the scene in the play!

[Material] Fabric Polyester/Insulated Polyester

[Size] Upper diameter approx. 350 mm, lower diameter approx. 450 mm Height approx.  270 mm

[Production area] China

*The photo shown is a prototype and may differ slightly from the actual product There are cases.
*Orders will be closed as soon as the number of preparations has been reached.
*If many requests are received, we may adjust the number of preparations and sell again.
*Size may vary slightly depending on cotton conditions.
*Sold as a single unit
Note: If you order four plushes to replicate the card image, you will receive free shipping, offer valid until September 13.