Want to put your Dueling skills to the test?
Yu-Gi-Oh! Day is just around the corner! On December 5 and 6, you'll have the opportunity to Remote Duel your way to greatness, earning exclusive prizes.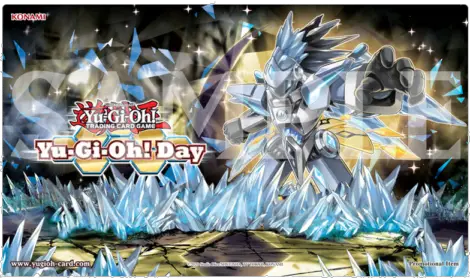 You can Duel to win great prizes, like this Game Mat featuring Crystron Halqifibrax, which was the winning Link Monster from the #VOTEDUELOVERLOAD bracket earlier this year!
Prove your mettle, and you may find yourself on the path to qualify for the next Remote Duel Invitational.
The Remote Duel Yu-Gi-Oh! Day event will be held on either Saturday, December 05, 2020 or Sunday, December 06, 2020 at select locations throughout North America. A list of locations and dates for the Remote Duel Yu-Gi-Oh! Day event can be found online at https://www.yugioh-card.com/en/events/ygoday/.
Please contact the OTS for exact tournament start time.
Duelists are required to have a valid shipping address in the country (United States or Canada) in which the Yu-Gi-Oh! Day event is being held, in order to participate in that specific Yu-Gi-Oh! Day.
Duelists from Latin America, Europe, or Oceania can participate in the Yu-Gi-Oh! Day events happening in their country. Please visit the link(s) below for more information on Yu-Gi-Oh! Day in your country.
The registration fee for a Yu-Gi-Oh! Day is $10.00 USD in the United States ($10.00 CAD in Canada).
All Duelists entering the Remote Duel Yu-Gi-Oh! Day event will receive this amount in commensurate prizing. For example, it could be two (2) OTS Tournament Pack, or two (2) booster packs and one (1) Legendary Duelist Pack.