Konami has reported its best ever full-year financial results, thanks in no small part to the ongoing success of the latest free-to-play Yu-Gi-Oh! Master Duel game.
For the year ended March 31, 2022, the Japanese publisher saw record high revenue and profit across all categories, including revenue, business profit, and operating profit.
Revenue was reported as ¥299.5 billion ($2.3 billion), up 9.9% year-on-year.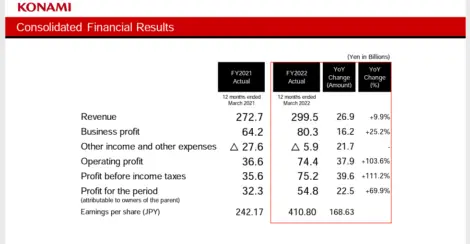 Business profit rose 25.2% to ¥80.3 billion ($626 million), while operating profit more than doubled to ¥74.4 billion ($580.1 million).
As usual, the majority of revenue came from the Digital Entertainment segment, which handles Konami's video games. This generated ¥215 billion ($1.7 billion), up 5.3% year-on-year, and profits of ¥76.4 billion ($595.9 million), up 4.1%.
Konami highlighted the success of Yu-Gi-Oh! Master Duel — the free-to-play and cross-platform collectible card game that's available on PC, mobile and all consoles — as a key driver here. Released in January, the game has already racked up 30 million downloads.
Looking forward, Konami expects another record year, forecasting revenues to rise 6.8% to ¥320 billion ($2.5 billion). Digital entertainment is expected to account for ¥225 billion ($1.8 billion), up 4.6%.
Business profit is forecast to reach ¥81 billion ($632 million), which would be a slight uptick of 0.9%.
Profits from digital entertainment are expected to remain flat at ¥76.5 billion ($596.7 million)
Source: Konami, gameindustry.biz