Kazuki Takahashi, the creator of the Yu-Gi-Oh! manga comic and trading card game, has died, apparently while snorkeling in southwestern Japan, the coast guard said Friday.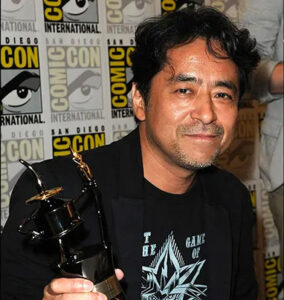 The body of Kazuki Takahashi,  who was 60, was found Wednesday floating about 300 meters (330 yards) off the coast of Okinawa, by a person running a marine leisure business, according to an official at the Naha Coast Guard Nago station.
The coast guard and the fire department went by boat and watercraft and found the body, face down and wearing a snorkeling mask. He may have been dead for a day or two, according to the coast guard official, who spoke on condition of anonymity because their job did not allow them to be quoted by name.
The body showed signs of being attacked by a marine creature, possibly sharks, but the cause of death was still under investigation, the official said.
Kazuki Takahashi was identified after police in another part of Okinawa contacted the coast guard Thursday, saying a rented car had been found abandoned on a beach. The car had a driver's license, confirming the identity. Takahashi's real first name was Kazuo. His family was contacted and identified him, the coast guard official said.
Born Kazuo Takahashi in Tokyo in 1961, Kazuki Takahashi began his career as a manga artist in 1982, although his early works didn't launch him into the international spotlight. Instead, he became a world-renowned artist in 1996, when he created the smash hit Yu-Gi-Oh!, a manga series that follows a clever boy who challenges his enemies to magical puzzles and card-game duels.
The original manga was serialized in Japan's Weekly Shonen Jump, while the English version appeared on shelves in 2002. Yu-Gi-Oh! birthed a highly successful media franchise of trading-card and video games, spinoff TV and anime series, and multiple animated films.
While all of the Yu-Gi-Oh! products have been a certified marketing coup, it was the trading-card game that entered the Guinness World Records in 2011 for the top-selling trading-card game in history, with 25.2 billion cards sold at the time.
Takahashi's latest work was an original story for the Yu-Gi-Oh!: The Dark Side of Dimensions anime film, released in 2017. Takahasi's death was met with an outpouring of grief from fans around the world.
Source: AP, PPN News Services