Caswell Francis – 等々力孝
Caswell Francis, known as Takashi Todoroki (Todoroki Takashi) is the class chairman and a friend of Yuma Tsukumo.
Characters tend to refer to him simply as "class rep" or "class representative" rather than his given name.
A very intelligent person, Caswell believes that everything can be planned out and executed as planned, only to be corrected by Mr. Kay saying that not everything goes according to plan. He has a habit (in the original) of saying "to summarize" whenever he makes a final statement on a subject. In the dub, he says "In the end".
Initially, Caswell Francis had pride in being the class rep as he was greatly saddened and disappointed when Yuma was made the class rep instead of him.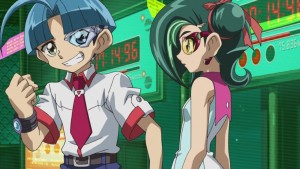 He along with Bronk came up with the idea of forming the Super Secret Number Card Investigation Club and found nothing on the school computers about them.
During Heartland Academy's Fun Fair, Caswell cosplayed as "Gagaga Magician" and helped the Floral Design Club trim flowers.

Deck
Caswell plays a "Crashbug"/"Debugger" Deck
VOICE ACTOR (ENGLISH): Jason Griffith
Japanese: Taishi Murata
Go to: « Bronk Stone | Cathy Katherine »