Her's the first reports on the recent Finals held in Anaheim, CA USA. This report comes to us by way of the Orange County Register, a local newspaper from the area.
Monstrous trading-card game phenomenon attracts thousands of enthusiasts to the YuGiOh! World Finals in Anaheim.
Anaheim – Sang Bui, 17, often thinks about his monsters. He wonders if there is a perfect spell to enhance the strength of his Dark Wizard. Or whether his monsters are powerful enough to beat a rival's. Or if a trap could have helped him win.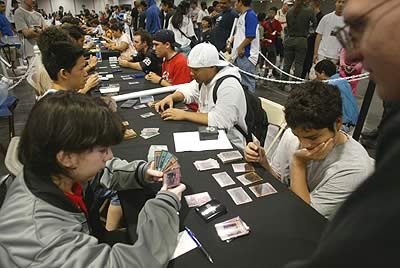 Challenge The Expert
– pic © 2004 OCR
EXPERTS: Felipe Luque, 15, of Chile, an expert player, faces Jessie Orozco, 14, of La Puente, right, at the "Challenge The Expert" area at the Yu-Gi-Oh! World Championship in Anaheim.
JEBB HARRIS, THE ORANGE COUNTY REGISTER
Story By: TAMARA CHUANG
The Orange County Register
Bui's penchant for strategizing helped him reach the worldwide finals for the Yu-Gi-Oh! card game, which took place Sunday at the Anaheim Convention Center in front of a crowd of about 10,000 people. The Fountain Valley resident was among 32 trading-card finalists from all over the world – including four from the United States – who had the chance to pit a horned Mad Sword Beast against a one-eyed Opticlops, or whatever monster lurked in their personal deck of cards. Another 16 contestants battled to become the champ of the Yu-Gi-Oh! video game.
"Sometimes I daydream about strategies," said Bui, who often plays the card game on average 16 hours a week. "It doesn't really hurt your brain. It's really fun. It's not like a hard math problem."