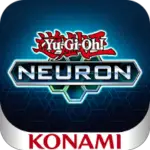 Key features:
Genre: TCG Card Companion App
Origin: Japan
Number of Players: 1
System Support: Online and offline play
Manufacturer: Konami
Developer: KONAMI
Release Dates:
JP: July 29, 2020
US: July, 29, 2020
UK: July, 29, 2020
Media: iOS, Android devices
App Store – LINK
Google Play – LINK
PEGI/ESRB Rating: 7/E Everyone
A mobile app designed to add to the Dueling experience, Yu-Gi-Oh! NEURON offers many features to help players become Master Duelists, such as Life Point tracking, dice rolls, coin tosses and Deck registration. Duelists can even register their Decks via the app by scanning them with their mobile's camera, providing a faster experience at the tip of their fingers.
Yu-Gi-Oh! NEURON features the ability to save Decks in the Card Database, making it easy to search cards with the camera. Within this database, Duelists can search the card name, card text and link marker – a feature made even more accessible as cards can be displayed in eight different languages.
Yu-Gi-Oh! NEURON also offers the latest news and Yu-Gi-Oh! Product information from KONAMI.
Yu-Gi-Oh! NEURON Features
Deck Registration

Easily register your Deck through your Camera
Able to read up to maximum 20 cards
Smooth maneuverability to edit your Decks
Manage your Decks by linking it to the Yu-Gi-Oh! TCG Card Database
Able to search public deck lists worldwide
Able to check the latest Forbidden & Limited List
Able to simulate your opening 5-card hand
Supporting your Duels

Calculating Life Points
Log, Save and Archive your Duels
Flipping coins, rolling dices and placing/removing Counters
Playable BGM feature
Card Search

Easily search Cards with your Camera
Search Cards accurately through Specifying Card Name, Card Text, Link Markers etc.
Displays Card Text in 8 different languages
Supports Tournament Participation

Displays your Card Game ID barcode
Linkable with your current Card Game ID
Register your Decks within the Yu-Gi-Oh! TCG Card Database
Notice/Product Details

Able to check Notices from KONAMI
Able to check Yu-Gi-Oh! Product Details
*Requires iOS 12.0 or above for Apple devices, or Android 8.0 or above
Duelists can visit the Yu-Gi-Oh! NEURON web page for more details: https://www.konami.com/yugioh/neuron/
Go to: « Yu-Gi-Oh! Legacy of the Duelist: Link Evolution Information |