Yu-Gi-Oh! Rush Duel: Saikyou Battle Royale! (J) | Yu-Gi-Oh! Rush Duel (E)
Key features:
Genre: Strategy
Origin: Japan
Number of Players: 1
System Support: Nintendo Switch  (online and offline play)
Manufacturer: Konami
Developer:
Release Date: August 12, 2021
US: Fall 2021
UK: Fall 2021
Media: Nintendo Switch (digital and physical)
ESRB Rating: E10+ (Fantasy Violence, Mild Blood, Suggestive Themes)
Yu-Gi-Oh! Rush Duel: Saikyou Battle Royale!! is a card battle game based on the Yu-Gi-Oh! Sevens TV anime. It plays using "Rush Duel," the game rule invented by anime protagonist Yuga Ohdo, allowing players to enjoy duels just like the anime on Switch.

Exciting Card Battles in the World of Yu-Gi-Oh! Sevens
Yu-Gi-Oh! Rush Duel: Saikyou Battle Royale!! features newly recorded voice-overs from the cast of the anime. Run around the world of Yu-Gi-Oh! Sevens and duel against the characters that appear in the anime. Win duels, collect cards, and become the strongest duelist! There is also a tutorial that teaches you the rules as you progress through the story.
Powerful Monster Summon Movies
Powerful monsters rampage across the screen!
Large Selection of Cards + More to Come in Future Updates
A total of 350 cards are included. New cards will be added via sequential updates post-release. (Includes cards up to the "Deck Modification Pack: Destined Power Destruction!!" Some special cards may not be included.)
Local and Online Multiplayer
Duel against friends locally in "Local Battles," or polish your skills against rivals nationwide in "Internet Battles." Duel against anyone, anytime, anywhere.
Early Pre-Order Bonus: Amiibo Cards
Users who pre-order Yu-Gi-Oh! Rush Duel: Saikyou Battle Royale!! early will receive a randomly selected Amiibo card featuring one of the following seven characters: Yuga, Luke, Gakuto, Romin, Roa, Nail, and secret character.
By scanning the Amiibo card, you will receive a duelist avatar and three custom parts (protector, deck case, and duel field) corresponding to that character. Additionally, by dueling using the avatar and three custom parts, you can hear exclusive lines from the character on the card.
First-Print Bonus: Yu-Gi-Oh! Rush Duel Exclusive Promotional Cards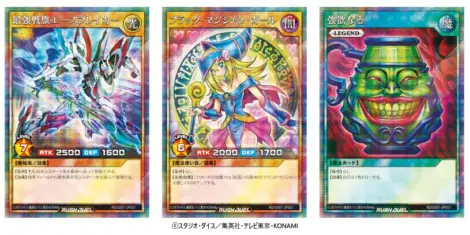 First-print copies of Yu-Gi-Oh! Rush Duel: Saikyou Battle Royale!! (physical release) will include the following three Secret Rare promotional cards: "Saikyo Battle Flag Ace Breaker," "Dark Magician Girl," and "Pot of Greed."
Screenshots and images
For more information on Yu-Gi-Oh! Rush Duel: Saikyou Battle Royale!!, visit its official website.
* The game and screen image is under development.
* For online battle play, you need to subscribe to Nintendo Switch Online 
ⓒ Studio Dice / Shueisha TV Tokyo KONAMI
© Konami Digital Entertainment
We will update as soon as we learn more.
Go to: « Yu-Gi-Oh! NEURON Information | Yu-Gi-Oh! Master Duel - Info »