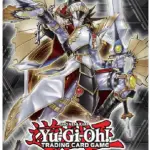 Just want to remind you all that the Latest Booster Pack for the Yu-Gi-Oh! TRADING CARD GAME (Yu-Gi-Oh! ARC-V Official Card Game), Breakers of Shadow, is coming Jan 15, 2016!
Swords will clash with the Breakers of Shadow booster set! Sharpen your blades and get ready to Duel with brand new Deck themes and the revival of a legend to the Yu-Gi-Oh! TRADING CARD GAME!
Buster Blader is back as Buster Blader, the Destruction Swordmaster, with a mighty band of new support cards that make this iconic monster stronger than ever before! In addition to this legendary warrior, Breakers of Shadow also introduces exciting new Deck themes and strategies! The Shiranui use the strength of Samurai spirit warriors to power you through Duels, while Twilight Ninjas rely on speed and numbers to overwhelm your foes. Opponents will feel the power of the Dinomists, steam-powered Pendulum dinosaurs that can land a heavy hit when you least expect it.
New cards for existing themes are also included like Melodious, Goyo, Majespecter, Odd-Eyes, Performapal, Magicians, and more, headlined by over a dozen new Extra Deck monsters! Many cards in this set will have excellent synergy with the newly released Master of Pendulum Structure Deck. Also, Duelists can now look forward to getting at least 1 foil card in every booster pack!
The Breakers of Shadow booster set contains 100 cards:
48 Commons
20 Rares
14 Super Rares
10 Ultra Rares
8 Secret Rares
MSRP: $3.99 per pack
It contains main new cards from the Yu-Gi-Oh! ARC-V animated series on TV.
It has plenty of cards suited for novices and fans of the TV series, and plenty of cards for more experienced places included, each of which are balanced, making it a product that appeals to a wide variety of players.
With cards that work with "Master of Pendulum" that came out in June 2015, as well as other existing products, this pack is full of a wide variety of cards.