IT'S THE MOST WONDERFUL TIME OF THE YEAR WITH KONAMI DIGITAL ENTERTAINMENT'S Yu-Gi-Oh! TRADING CARD GAME HOLIDAY OFFERINGS
El Segundo, Calif. (November 18, 2016) – Konami Digital Entertainment, Inc. (KONAMI) has made it easier for those who are busy making their lists and checking them twice, as the company once again offers plenty of holiday offerings for beginning and veteran players of the ever-popular Yu-Gi-Oh! TRADING CARD GAME (TCG). Mass market and hobby stores nationwide have fully-stocked shelves of Yu-Gi-Oh! TCG products and accessories and are ready for gift-givers to come in and find the perfect assortment of new and exciting presents this festive season.

Vying to be the first package to be unwrapped, the 2016 Mega-Tins celebrate the original heroes of Dueling, Yugi and Kaiba, and are a perfect choice for any Duelist. Available in two cool designs; the Yugi & Slifer Tin comes with a Secret Rare Slifer the Sky Dragon and an Ultra Rare Dark Magician, while the Kaiba & Obelisk Tin features a Secret Rare Obelisk the Tormentor and an Ultra Rare Blue-Eyes White Dragon. Each 2016 Mega-Tin includes three 16-card Mega-Packs highlighting the best from past booster sets and, in addition to the legendary Egyptian God Cards and signature Ultra Rares, each heroic Tin has four more foil promos – including a new Pendulum Monster, Aether, the Evil Empowering Dragon and a never-before-seen boss monster for D/D/D's, D/D/D Gust King Alexander. Each Tin, sold separately, is a fantastic value at $19.99 MSRP.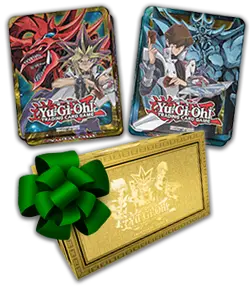 Sure to impress any Yu-Gi-Oh! TCG fan is Legendary Decks II. This remarkable set is overflowing with fan-favorite and collectible cards all presented in one beautiful gold-foil gift box. With three new ready-to-play Decks, Duelists can take on opponents with Exodia, the Forbidden One and all three playable Egyptian God Cards, blaze to victory with Red-Eyes monsters, and unleash the fearsome power of Blue-Eyes White Dragon. Each 132-card Legendary Decks II collection includes three Ultra Rare Token Cards, each card celebrating one of the legendary trio, as well as all-new support cards for Yugi's Dark Magician theme: Dark Burning Attack, Dark Burning Magic, and the incredible Trap Card Eternal Soul. MSRP: $29.99 per set.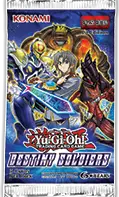 For those inclined to leave shopping until the last minute, a stocking full of booster packs is the way to go. Be the first to give cards from the upcoming 60-card Destiny Soldiers special booster set which are sure to please any level player. Destiny Soldiers uses the popular all-foil '4+1' card configuration as seen in The Secret Forces and the Hidden Arsenal boosters. This set features the return of a fan favorite theme, an incredibly powerful new spin on the Darklords from the Yu-Gi-Oh! manga. Plus, Destiny Soldiers introduces the first brand-new "Destiny HERO" cards since 2008.  Available November 18, each 5-card pack is $3.99 MSRP.
Know a player itching to rip open booster packs? Then the December 9 release of Invasion: Vengeance Special Edition fits the bill. This set features menacing monsters such as Starving Venom Fusion Dragon and Dark Requiem Xyz Dragon, an upgraded form of the popular Dark Rebellion Xyz Dragon. Each Invasion: Vengeance Special Edition contains three Invasion: Vengeance booster packs, one of two Super Rare Cards, either Dystopia the Despondent or Relinkuriboh, and one of two foil preview cards of non-foil cards, Crystron Rion or Yokotuner, from the upcoming 2017 booster set. It's a perfect present at $9.99 MSRP per box.
Need a gift for a competitive Duelist who thinks they have everything Yu-Gi-Oh!-related, then Structure Deck: Yugi Muto and Structure Deck: Seto Kaiba are the perfect solution. Structure Deck: Yugi Muto retrains Yugi's Magnet Warriors from the Battle City tournament, reinventing them as the upgraded Electromagnet Warriors. Play them on their own, or unite them with the original Valkyrion the Magna Warrior to Summon the mighty Imperion Magnum the Superconductive Battlebot. Meanwhile Structure Deck: Seto Kaiba focuses on rebuilding the XYZ-Dragon Cannon Union theme with three new Union monsters: A-Assault Core, B-Buster Drake, and C-Crush Wyvern. Fuse all three from the field or Graveyard to Summon the insane new ABC-Dragon Buster! Combined with Silver Gadget and Gold Gadget from Yu-Gi-Oh! The Dark Side of Dimensions Movie Pack, Kaiba's new strategy could make a huge impact in tournament play. Each Structure Deck: Yugi Muto and Structure Deck: Seto Kaiba includes a 40-card Main Deck and a 5-card extra Deck, for a total of 40 Commons, 3 Super Rares, and 2 Ultra Rares. MSRP: $9.99 per box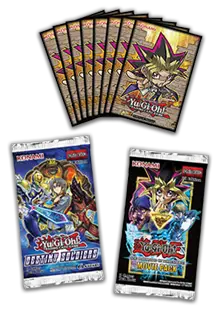 Of course Duelists will need to protect their new cards so why not tuck a brand-new set of glossy, premium quality tournament-legal sleeves into their stocking. The Yu-Gi-Oh! Chibi Card Sleeves feature the iconic Yugi and each pack (MSRP $3.99) contains 50 card sleeves specifically designed for the Yu-Gi-Oh! TRADING CARD GAME.
For additional gift ideas this holiday season, visit http://www.yugioh-card.com/en/holidaygifts/. Duelists can watch a new episode of Yu-Gi-Oh! ARC-V every Sunday on Nicktoons – check local listings for times. In addition, all-new Yu-Gi-Oh! ZEXAL episodes every Tuesday as well as all of Yu-Gi-Oh!, Yu-Gi-Oh! GX, and Yu-Gi-Oh! 5D's can be seen on www.yugioh.com in the United States. In Canada, Duelists can watch episodes of Yu-Gi-Oh! ARC-V every Friday and Saturday on Teletoon!
For more information on KONAMI or the Yu-Gi-Oh! TRADING CARD GAME, please visit www.yugioh-card.com or call 310-220-8630 to speak directly with a Yu-Gi-Oh! customer support team member.
About The Yu-Gi-Oh! TCG
The Yu-Gi-Oh! TRADING CARD GAME is the #1 trading card game in the world with over 25 billion cards sold. It is a game of strategy, where players create individual Decks of cards collected from Structure Decks and Booster Packs. Two players engage in a Duel while using cards that represent powerful monsters, magical Spells and surprising Traps. Duelists with well-constructed Decks, dominating monsters, solid strategy and good fortune are the victors in the Yu-Gi-Oh! TCG. Konami Digital Entertainment, Inc. is the exclusive licensee and rights holder to the Yu-Gi-Oh! TCG in North America and Latin America.
About KONAMI
KONAMI is a leading developer, publisher and manufacturer of electronic entertainment properties and traditional trading card games. KONAMI's software titles include the popular franchises Metal Gear Solid, Silent Hill, DanceDanceRevolution and Castlevania, among other top sellers.  KONAMI is also the manufacturer of the wildly popular Yu-Gi-Oh! TRADING CARD GAME, which has sold more than 25 billion cards worldwide.  The latest information about KONAMI can be found on the Web at www.konami.com. KONAMI HOLDINGS CORPORATION is a publicly traded company based in Tokyo, Japan with subsidiaries, Konami Digital Entertainment Co., Ltd. in Tokyo, Japan, Konami Digital Entertainment, Inc. in the United States and Konami Digital Entertainment B.V. in Windsor, the United Kingdom. Details of the products published by KONAMI can be found at www.konami.com.