Wanted to share some details with you around an upcoming release from Yu-Gi-Oh! TRADING CARD GAME.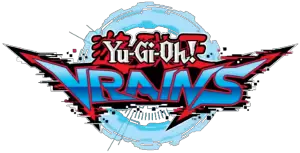 Star Pack: VRAINS will become available starting Friday, March 30, 2018.
Following the advent of the Link era, Star Pack: VRAINS is filled to the brim with popular themes from Yu-Gi-Oh! VRAINS. Cyberse Monsters, Link Monsters, and more can be found in Star Pack: VRAINS, with an SRP of only 99¢!
Each pack contains 3 randomly distributed cards with 1 guaranteed Starfoil Card. The cards are taken from a set of 50 cards, 49 of which are available as Commons and all 50 cards available as Starfoils. This means a whole bunch of cards never seen before as Starfoils, at a great value!
For fans of Yu-Gi-Oh! VRAINS, Star Pack: VRAINS includes cards from the "Gouki," "Trickstar," and "Altergeist" themes! Duelists can now have an easy way to get popular cards like Trickstar Lycoris, Gouki The Great Ogre, and more!
The Star Pack: VRAINS set contains 49 Common Cards and 1 Starfoil only card. (All 49 Common Cards are also available as Starfoil Cards.)