Cathy Katherine – キャッシー
Cathy Katherine, known simply as Cathy (キャッシー, Kyasshī) Japanese version and nicknamed Cat (Cat-chan in the Japanese version), is one of Yuma's friends. She has an obsession with cats to the extent that she behaves like them and can control and communicate with them.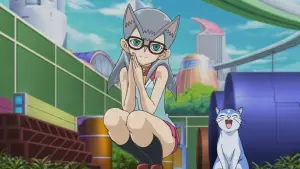 Cathy, like her nickname implies, has the appearance of a cat. She has two pieces of her gray hair held up by clips which give her the appearance of having cat ears.
Cathy Katherine is a loner and a stereotypical shy girl, especially towards her crush; Yuma Tsukumo. However, she has shown to have a strong distaste towards dogs. As stated above, Cathy has a bizarre obsession with cats and has the ability to communicate with them. Her obsession goes to the point that she decorates almost the entire interior of her house with cat-themed paraphernalia.
She has a habit of dressing up in cat-themed clothes in the Gothic Lolita style and sometimes exhibits cat-like behavior; i.e. curling her hands to simulate cat paws, finishing her sentences with the word ニャーnya and licking her lips. She also has a habit of saying the word "Cat" (かとkato) when talking.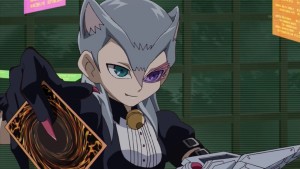 Cathy occasionally makes cat-related puns.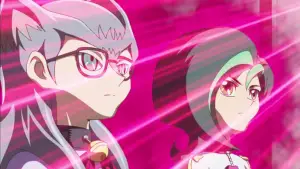 Deck
Cathy uses a "Cat" Deck, focused on swarm and lockdown tactics with her "Stray Cats".
VOICE ACTOR (ENGLISH): Bella Hudson
Japanese: Yu Kobayashi
Go to: « Caswell Francis | Dextra »