Based on the trading card and television series phenomenon, "Yu-Gi-Oh! The Movie" is the story of Yugi, a boy captivated by the card game sweeping the nation: Duel Monsters!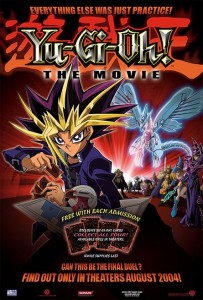 But there's more to the game than meets the eye, for it contains ancient mystical energies that can change the course of history! Deep below the sands of Egypt, an old evil has awakened. Anubis, who was defeated centuries ago by Yugi's mysterious alter ego — the Pharaoh — has returned for revenge to destroy Yugi and take over the world! Can Yugi and friends conquer their most powerful foe yet before the planet is buried in the sands of time?
WHEN: Saturday, August 7, 2004
Screening: 11:00 AM
WHERE: Grauman's Chinese Theatre
6925 Hollywood Blvd.
Hollywood, CA
USA
"Yu-Gi-Oh! The Movie" has been rated PG by the MPAA for "Scary combat and monster images."
www.yugioh.com / AOL Keyword: Yugioh
"Yu-Gi-Oh! The Movie" will be released domestically on Friday, August 13, 2004 by Warner Bros. Pictures, a Warner Bros. Entertainment Company.