Announced on 2006-04-19 17:18 – NEW YORK (April 19, 2006) – 4Kids Entertainment Home Video, Inc., the home video unit of 4Kids Entertainment, Inc. (NYSE: KDE), in association with FUNimation Entertainment, has set a May 23, 2006 street date for Yu-Gi-Oh! Capsule Monsters, the first of two all-new, direct-to-DVD Capsule Monster films to be released this year.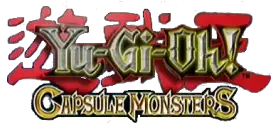 In the follow up to the hit theatrical film and DVD release, Yu-Gi-Oh! The Movie, the new film, Yu-Gi-Oh! Capsule Monsters, pits Yugi, Tea, Tristen and Joey against a new crop of ancient monsters who are out to destroy them. To defeat the monsters, the kids must now work together as a team and abandon their trusty Duel Disks for different technology – Capsule Shooters.
"These new Yu-Gi-Oh! DVDs are a direct result of the overwhelming response to the first Yu-Gi-Oh! film, which thrilled fans at the box office and sold over one million DVDs," said Joe Lyons, Director of Home Entertainment at 4Kids. "With an intriguing new storyline and an exciting new way to battle, it is certain to please the multitude of Yugi fans and attract an even wider audience."
The DVD release follows on the heels of Mattel's recent release of the Yu-Gi-Oh! Capsule Monsters Collectible Figure Game. With game play and rules drawn from the Capsule Monsters film, Mattel's new game is a competition of strategy and surprise. Players must plan moves carefully before unleashing their Monsters to attack. Defeat the enemy King and win the game! The starter set includes everything needed for a two-player game. Collectible booster packs, which include different and more powerful Monsters than those found in the starter set, are also available.
To support the retail debut of the DVD, 4Kids is planning a multi-platformed advertising campaign, and exclusive online sneak peaks on the Yu-Gi-Oh! (www.yugioh.com) and 4Kids TV (www.4Kids.TV) Web sites, as well as other top game and movie sites.
Yu-Gi-Oh! Capsule Monsters
Saving the world from destruction week after week is no easy task. So, when Joey wins an exotic trip for four, Yugi and his friends decide to take a much-needed vacation – or so they think! Before reaching their destination, their plane crash-lands in a deserted forest where the gang meets the mysterious Dr. Alex Brisbane, an archeologist who has made an astonishing discovery. Here in a remote area thousands of miles from Egypt lies a great pyramid that contains an incredible secret – a portal to another dimension – the world of the Capsule Monsters!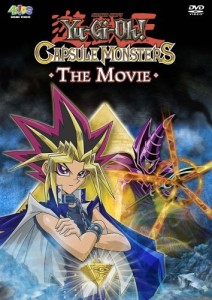 When Yugi and his friends enter this pyramid, they are magically transported to a dangerous realm inhabited by ancient creatures. Lost in a mystical labyrinth, they must complete a series of trials in order to find the passage back home. It's a battle for survival as Yugi trades in his Duel Disk for a Capsule Shooter in life-threatening challenges that are so much more than just a game!
DVD Extras: Deleted Scenes
TITLE: Yu-Gi-Oh! Capsule Monsters
RUNNING TIME: Approximately 95 minutes
RATING: TV-Y
FORMAT: DVD
SRP: $14.98
PREBOOK DATE: 4/18/2006
STREET DATE: 5/23/2006