KONAMI DIGITAL ENTERTAINMENT ANNOUNCES NEW Yu-Gi-Oh! TRADING CARD GAME TOURNAMENT SERIES
Ultimate Duelist Series To Run Two Seasons per Year, Culminating In Two Ultimate Duelist Series Invitationals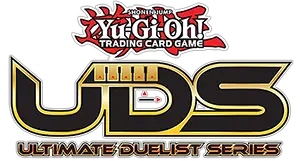 El Segundo, Calif. – August 19, 2015 – Konami Digital Entertainment, Inc. (KONAMI) is pleased to announce an exciting new tournament series for the Yu-Gi-Oh! TRADING CARD GAME (TCG) debuting August 22 – 23, 2015 at the very first Ultimate Duelist Series Invitational in the Philadelphia Convention Center.
The Ultimate Duelist Series (UDS) will give Duelists an opportunity to play competitively year round.
"We have been eager to provide our Official Tournament Stores a platform that encourages players to visit stores in order to keep honing their skills outside of our current tournament season. The Ultimate Duelist Series accomplishes that and more and is a perfect complement to our other Organized Play programs already in place," said Yumi Hoashi, Vice President of Card Business at Konami Digital Entertainment, Inc. "And now Duelists will be able to play competitively all year, win exclusive prizes, and earn points – it's a win-win!"
The UDS will run two seasons per year, a Winter Season and a Summer Season, and each season will culminate in an Ultimate Duelist Invitational. In order to earn a spot at an Invitational, Duelists will have to earn a certain amount of Ultimate Duelist Series Points by competing in the many Official Tournament Store level and Premier-level tournaments that award these Points.
Because the UDS is tied in to the many levels of KONAMI's Official Organized Play programs, Duelists will be collecting points from many of the Organized Play programs they're already participating in – and all-new collectible prizing for the tournament series adds another, unique level to the competition. Duelists will also be delighted to find that the UDS prize structure and variety of prizes all tie together.
For more detailed information on the Ultimate Duelist Series including dates, locations, rules and formats please visit http://www.yugioh-card.com/en/ultimateduelist
Duelists can watch all-new Yu-Gi-Oh! ZEXAL episodes every Tuesday as well as all of classic Yu-Gi-Oh!, Yu-Gi-Oh! GX, and Yu-Gi-Oh! 5D's on www.yugioh.com in the United States. In addition, Yu-Gi-Oh! ZEXAL airs Saturday mornings on Nicktoons from 10-11. In Canada, Duelists can watch episodes of Yu-Gi-Oh! ARC-V every Friday and Saturday on Teletoon! For more information on KONAMI or the Yu-Gi-Oh! TRADING CARD GAME, please visit www.yugioh-card.com or call 310-220-8630 to speak directly with a Yu-Gi-Oh! customer support team member.
About The Yu-Gi-Oh! TCG
The Yu-Gi-Oh! TRADING CARD GAME is the #1 trading card game in the world with over 25 billion cards sold. It is a game of strategy, where players create individual Decks of cards collected from Structure Decks and Booster Packs.
Two players engage in a Duel while using cards that represent powerful monsters, magical Spells and surprising Traps. Duelists with well-constructed Decks, dominating monsters, solid strategy and good fortune are the victors in the Yu-Gi-Oh! TCG. Konami Digital Entertainment, Inc. is the exclusive licensee and rights holder to the Yu-Gi-Oh! TCG in North America and Latin America.
About KONAMI
KONAMI is a leading developer, publisher and manufacturer of electronic entertainment properties and traditional trading card games. KONAMI's software titles include the popular franchises Metal Gear Solid, Silent Hill, DanceDanceRevolution and Castlevania, among other top sellers. KONAMI is also the manufacturer of the wildly popular Yu-Gi-Oh! TRADING CARD GAME, which has sold more than 25 billion cards worldwide. The latest information about KONAMI can be found on the Web at http://www.konami.com
KONAMI CORPORATION is a publicly traded company based in Tokyo, Japan with subsidiaries, Konami Digital Entertainment Co., Ltd. in Tokyo, Japan, Konami Digital Entertainment, Inc. in the United States and Konami Digital Entertainment B.V. in Windsor, the United Kingdom. Details of the products published by KONAMI can be found at http://www.konami.com