Collectibles to be Licensed and Distributed in the United States, Canada, Europe, Mexico and Australia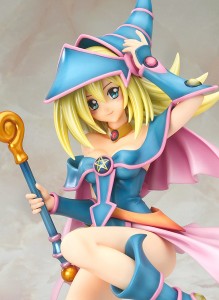 November 17, 2015 – New York – 4K Media, the Konami Digital Entertainment, Inc. subsidiary managing the licensing and marketing of the Yu-Gi-Oh! brand, has announced its licensing agreement with Good Smile Company, a leader in the design, manufacturing and marketing of collectible figurines. As a result of the agreement, Good Smile Company will import Yu-Gi-Oh! figurines into North America, Europe and Australia. The first figures to be introduced are Yami Yugi figma and Dark Magician Girl scale figurine.
This deal marks the first time these Yu-Gi-Oh! figurines will be released worldwide simultaneously. The 1/7th scale painted PVC figures will each include a stand.
The Yami Yugi figure is articulated and will be approximately 145mm in height, it includes a removable cape, a hand of cards and a single card as well as a detachable Duel Disk.
The Dark Magician Girl figure is approximately 210mm high and is based on a summoning scene, showing her in a dynamic pose complete with a summoning circle base.
"We are delighted to work with Good Smile Company in bringing these wonderfully exquisite figurines to fans in North America, Europe and Australia," said Jennifer Coleman, 4K Media's Vice President of Licensing & Marketing. "Today's news represents our ongoing commitment to enrich the Yu-Gi-Oh! brand by adding new layers to the collectible experience and expanding its reach."
"Yu-Gi-Oh! is a globally beloved franchise with very active fans that are always looking for new ways to enjoy their favorite characters," added Max Watanabe, of Max Factory (a sister company of Good Smile Company). "Yami Yugi and Dark Magician Girl are a highly recognizable character and monster, making them perfect choices make available to a much broader audience of collectors."
Buy/Pre-order on Play-Asia.com 
:
About Max Factory
Max Factory was established in 1987 with a focus on planning and production of figures and alloy toys. What began as a garage kit maker soon developed into a larger company with a selection of different products, always held in high standards by collectors and fans. In 2008 the company began production on the figma action figure series, which provided quality articulated figures at a reasonable price, and quickly became the company's most well-known product series. More information about Max Factory can be found at www.maxfactory.jp/en/mxf.
About Good Smile Company
Established in 2001, Good Smile Company is the worldwide leader in Japanese hobby products and services including the design, manufacturing and marketing of collectible figurines. Known for creating highly detailed collectibles, Good Smile Company's quality of production, sculpting, and manufacturing are known industry wide as the new standard for Japanese anime/manga/video game characters. The company is actively involved in other new areas, such as animation production/development and the motor sports business. More information about Good Smile Company can be found at www.goodsmile.com.
About Yu-Gi-Oh!
The Yu-Gi-Oh! animated franchise, with over 650 episodes, consists of the original Yu-Gi-Oh! Duel Monsters, Yu-Gi-Oh! GX, Yu-Gi-Oh! 5D's, Yu-Gi-Oh! Zexal, and the newest edition Yu-Gi-Oh! Arc-V, and has been translated and broadcast in 65 countries on many of the top leading networks. The legendary Yu-Gi-Oh! brand emerged from a manga in 1996, and was catapulted into the lives of children worldwide through a hit TV series and wildly popular trading card game. With 25 BILLION cards sold, it holds the Guinness World Record for the Best-Selling Trading Card Game.
About 4K Media
4K Media Inc., a wholly owned subsidiary of Konami Digital Entertainment, Inc., manages the Yu-Gi-Oh! franchise outside of Asia. 4K Media handles brand management, licensing and marketing of Yu-Gi-Oh!, as well as the production and distribution of the Yu-Gi-Oh! television series. The Yu-Gi-Oh! animated franchise, with over 650 episodes, consists of the original Yu-Gi-Oh! Duel Monsters ,Yu-Gi-Oh! GX, Yu-Gi-Oh! 5D's, Yu-Gi-Oh! Zexal and the new series, Yu-Gi-Oh! Arc-V. The series have been translated and broadcast in 65 countries on leading networks. The Yu-Gi-Oh! website is available at www.yugioh.com