Spring has sprung! It's time to talk about the new May 2016 Yu-Gi-Oh! TRADING CARD GAME products.
THE Yu-Gi-Oh! TRADING CARD GAME IS IN FULL BLOOM THIS SPRING WITH TWO NEW MAY PRODUCTS
El Segundo, Calif. (April 19, 2016) – Everything's coming up roses in May when Konami Digital Entertainment, Inc. (KONAMI) celebrates Spring with two new May 2016 Yu-Gi-Oh! TRADING CARD GAME (TCG) product releases. Adding these products to their growing portfolio helps KONAMI, the manufacturer of the multiple world record-holding Yu-Gi-Oh! TCG, continue to thrive as a leader in the TCG category.
The first product to land on store shelves is Shining Victories, the latest Yu-Gi-Oh! TCG core booster set, on May 6. Appealing to veteran and novice players alike, Shining Victories is a 100-card set with brand-new Deck themes such as Lunalight, Digital Bug, and Amorphage Dragons, and marks the return of Blue-Eyes and a plethora of specially crafted Blue-Eyes monsters and support cards!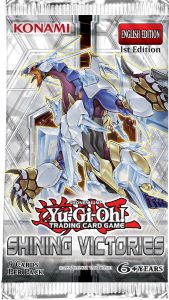 Plus, Duelists that specialize in Kozmo or Performapal Decks will be excited to add Kozmo Dark Planet or Performapal Odd-Eyes Light Phoenix along with other newly added cards like Crystal Wing Synchro Dragon or Red-Eyes Toon Dragon to add to their current card portfolio arsenal.
Players wanting to get their hands on cards early can attend a Sneak Peek scheduled for April 31 and/or May 1 at participating Official Tournament Stores.  MSRP: $3.99 per Pack.
Next is Starter Deck – Yuya releasing on May 27. Designed to teach new Duelists how to Duel, Starter Deck – Yuya is a pre-constructed Performapal-themed Deck right out of the box, making it the perfect way for new Duelists to be introduced to the Yu-Gi-Oh! TCG. Fans will be delighted to Duel with cards used and inspired by Yuya, the main protagonist in the newest generation of the Yu-Gi-Oh! manga and animated series, Yu-Gi-Oh! ARC-V.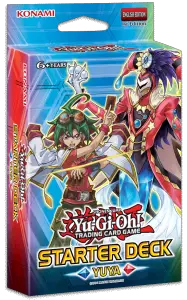 In addition to popular cards such as Lightning Vortex, Book of Moon, and Pendulum Reborn, Starter Deck – Yuya also includes 10 brand-new cards like Performapal Sleight Hand Magician, in addition to three special Token cards, making it an exciting product for all Duelists to own. Each Starter Deck – Yuya consists of a 40-card ready-to-play Deck and three Token cards. MSRP: $9.99 per Deck.
Duelists can watch a new episode of Yu-Gi-Oh! ARC-V every Sunday on Nicktoons – check local listings for times. In addition, all-new Yu-Gi-Oh! ZEXAL episodes every Tuesday as well as all of classic Yu-Gi-Oh!, Yu-Gi-Oh! GX, and Yu-Gi-Oh! 5D's can be seen on www.yugioh.com in the United States. In Canada, Duelists can watch episodes of Yu-Gi-Oh! ARC-V every Friday and Saturday on Teletoon! For more information on KONAMI or the Yu-Gi-Oh! TRADING CARD GAME, please visit www.yugioh-card.com or call 310-220-8630 to speak directly with a Yu-Gi-Oh! customer support team member.
About The Yu-Gi-Oh! TCG
The Yu-Gi-Oh! TRADING CARD GAME is the #1 trading card game in the world with over 25 billion cards sold. It is a game of strategy, where players create individual Decks of cards collected from Structure Decks and Booster Packs. Two players engage in a Duel while using cards that represent powerful monsters, magical Spells and surprising Traps. Duelists with well-constructed Decks, dominating monsters, solid strategy and good fortune are the victors in the Yu-Gi-Oh! TCG.  Konami Digital Entertainment, Inc. is the exclusive licensee and rights holder to the Yu-Gi-Oh! TCG in North America and Latin America.
About KONAMI
KONAMI is a leading developer, publisher and manufacturer of electronic entertainment properties and traditional trading card games. KONAMI's software titles include the popular franchises Metal Gear Solid, Silent Hill, DanceDanceRevolution and Castlevania, among other top sellers.  KONAMI is also the manufacturer of the wildly popular Yu-Gi-Oh! TRADING CARD GAME, which has sold more than 25 billion cards worldwide.  The latest information about KONAMI can be found on the Web at www.konami.com. KONAMI HOLDINGS CORPORATION is a publicly traded company based in Tokyo, Japan with subsidiaries, Konami Digital Entertainment Co., Ltd. in Tokyo, Japan, Konami Digital Entertainment, Inc. in the United States and Konami Digital Entertainment B.V. in Windsor, the United Kingdom. Details of the products published by KONAMI can be found at www.konami.com.