THE Yu-Gi-Oh! TRADING CARD GAME GETS EVEN HOTTER THIS SUMMER WITH TWO NEW AUGUST RELEASES
El Segundo, Calif. (July 27, 2016) – The action heats up in August, when Konami Digital Entertainment, Inc. (KONAMI) sets the summer ablaze with new Yu-Gi-Oh! TCG (TRADING CARD GAME) releases! Two hot booster sets arrive just in time to kick off the 2016 Dueling season, ushering in a new era for collectors, competitors, and fans of every Yu-Gi-Oh! TV series.

On August 5 The Dark Illusion reinvents some of Yugi's greatest cards with an all-new core booster set. Magician's Robe and Magician's Rod make Dark Magician Decks more consistent, while Yugi's original powerhouse unites with the Magician of Dark Illusion to unleash Ebon High Magician – a fearsome Xyz Monster that bends the rules of sorcery to change how Spell and Trap Cards are played.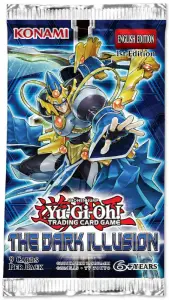 With 100 new cards, The Dark Illusion introduces themes like the ancient Triamids, the agents of SPYRAL, the colossal Subterrors, and the high-speed Metalfoes, destined to become a force in tournament play. New support for Performapals and Shiranui skyrockets these themes to new heights, while groundbreaking cards like Pot of Desires, Cosmic Cyclone, Coral Dragon, and Floodgate Trap Hole raise the bar anywhere you want to play them.
Duelists can get their first taste of the Yu-Gi-Oh! TCG The Dark Illusion at Sneak Peeks scheduled for July 30 and/or July 31 at participating Official Tournament Stores (OTS). Duelists can find more information and a list of participating locations here http://www.yugioh-card.com/en/events/sneakpeek.html.  MSRP: $3.99 per pack.
Legends unite! Dragons of Legend -Unleashed- arrives August 19, with some of the most-wanted cards from all five eras of the Yu-Gi-Oh! TV series. From Yu-Gi-Oh! GX comes Alexis Rhodes' "Cyber Angel" Rituals, and five new planetary monsters. From Yu-Gi-Oh! 5D's, Jack Atlas' Red Nova and the Duel-warping Scrum Force rev it up. From Yu-Gi-Oh! ZEXAL come several new "Number" Xyz Monsters, including the indomitable Number 100: Numeron Dragon.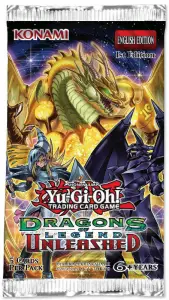 And from Yu-Gi-Oh! ARC-V, the peculiar Cardian monsters make their debut. Duelists can also upgrade their Extra Deck even further with monsters like Galaxy Stealth Dragon, Galaxy-Eyes Cipher Dragon, and Number 24: Dragulas the Vampiric Dragon.
The Legendary Dragon monsters Timaeus, Critias, and Hermos return from Dragons of Legend and Dragons of Legend 2, bringing their Fusion Monsters and support cards with them, along with other heavily-demanded cards from these sets. Each 5-card pack contains 4 Ultra Rare Cards and 1 Secret Rare Card. MSRP: 3.99 per pack.
Duelists can watch a new episode of Yu-Gi-Oh! ARC-V every Sunday on Nicktoons – check local listings for times. In addition, all-new Yu-Gi-Oh! ZEXAL episodes every Tuesday as well as all of Yu-Gi-Oh!, Yu-Gi-Oh! GX, and Yu-Gi-Oh! 5D's can be seen on www.yugioh.com in the United States. In Canada, Duelists can watch episodes of Yu-Gi-Oh! ARC-V every Friday and Saturday on Teletoon! For more information on KONAMI or the Yu-Gi-Oh! TRADING CARD GAME, please visit www.yugioh-card.com or call 310-220-8630 to speak directly with a Yu-Gi-Oh! customer support team member.
About The Yu-Gi-Oh! TCG
The Yu-Gi-Oh! TRADING CARD GAME is the #1 trading card game in the world with over 25 billion cards sold. It is a game of strategy, where players create individual Decks of cards collected from Structure Decks and Booster Packs. Two players engage in a Duel while using cards that represent powerful monsters, magical Spells and surprising Traps. Duelists with well-constructed Decks, dominating monsters, solid strategy and good fortune are the victors in the Yu-Gi-Oh! TCG.  Konami Digital Entertainment, Inc. is the exclusive licensee and rights holder to the Yu-Gi-Oh! TCG in North America and Latin America.
About KONAMI
KONAMI is a leading developer, publisher and manufacturer of electronic entertainment properties and traditional trading card games. KONAMI's software titles include the popular franchises Metal Gear Solid, Silent Hill, DanceDanceRevolution and Castlevania, among other top sellers.  KONAMI is also the manufacturer of the wildly popular Yu-Gi-Oh! TRADING CARD GAME, which has sold more than 25 billion cards worldwide.  The latest information about KONAMI can be found on the Web at www.konami.com. KONAMI HOLDINGS CORPORATION is a publicly traded company based in Tokyo, Japan with subsidiaries, Konami Digital Entertainment Co., Ltd. in Tokyo, Japan, Konami Digital Entertainment, Inc. in the United States and Konami Digital Entertainment B.V. in Windsor, the United Kingdom. Details of the products published by KONAMI can be found at www.konami.com.