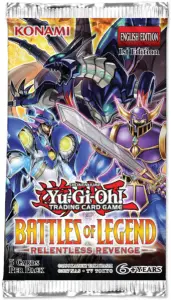 Battles of Legend: Relentless Revenge combines often-requested cards from each of the Yu-Gi-Oh! animated series, printed for the very first time, including new cards from Yu-Gi-Oh! VRAINS, high-demand cards used in current competition, and cards targeted at Duelists who want to play with Deck strategies and themes released over the past year and into the next one!
We received 3 packs for review  from Konami and went ahead and opened them today.. 
In our 3 booster packs, we got:
The cards are beautiful looking with all of them being  holographic. Most are reprints from other sets and/or times so are a nice refresh on older cards if you're into that sort of thing.
We didn't get any of the  signature cards but the cards we got will be nice additions to our collection, if not our deck.
With that said, you should try a few packs or a box or two and add these nice rares to your collection too.
Battles of Legend: Light's Revenge dug into the archives of cards Duelists thought would never see the light of day and produced the Timelords! These monsters from the climax of Yu-Gi-Oh! 5D's proved to be an instant hit, and there are more where they came from in Battles of Legend: Relentless Revenge including the 4000 ATK and DEF Sandaion, the Timelord!
The "Number" monsters that debuted in Yu-Gi-Oh! ZEXAL are a hit with Duelists and collectors alike, and Battles of Legend: Relentless Revenge brings more of them to your Dueling table! Duelists regularly find room for Number 38: Hope Harbinger Dragon Titanic Galaxy from Premium Gold: Infinite Gold for its Spell negation abilities, and now it's getting a "Galaxy-Eyes" counterpart that negates monster effects!
To top off this 105-card set, return to the original Yu-Gi-Oh! animated series and experience the power of a card so overwhelming, it was never meant for our hands! You can find all this, plus cards from Yu-Gi-Oh! GX, 5D's, and VRAINS, and more in Battles of Legend: Relentless Revenge!
Each 5-card pack contains 4 Ultra Rares and 1 Secret Rare.
Battles of Legend: Relentless Revenge English Card List
| Card number | Name | Rarity | Category |
| --- | --- | --- | --- |
| BLRR-EN001 | "Orgoth the Relentless" | Secret Rare | Effect Monster |
| BLRR-EN002 | "Summon Dice" | Ultra Rare | Normal Spell Card |
| BLRR-EN003 | "Flying Elephant" | Secret Rare | Effect Monster |
| BLRR-EN004 | "Prinzessin" | Secret Rare | Effect Monster |
| BLRR-EN005 | "Pumpkin Carriage" | Ultra Rare | Effect Monster |
| BLRR-EN006 | "Iron Hans" | Ultra Rare | Effect Monster |
| BLRR-EN007 | "Iron Knight" | Ultra Rare | Effect Monster |
| BLRR-EN008 | "Glife the Phantom Bird" | Secret Rare | Effect Monster |
| BLRR-EN009 | "Hexe Trude" | Secret Rare | Effect Monster |
| BLRR-EN010 | "Golden Castle of Stromberg" | Secret Rare | Field Spell Card |
| BLRR-EN011 | "Glass Slippers" | Secret Rare | Equip Spell Card |
| BLRR-EN012 | "Iron Cage" | Ultra Rare | Continuous Spell Card |
| BLRR-EN013 | "Litmus Doom Swordsman" | Ultra Rare | Effect Ritual Monster |
| BLRR-EN014 | "Litmus Doom Ritual" | Ultra Rare | Ritual Spell Card |
| BLRR-EN015 | "Living Fossil" | Secret Rare | Equip Spell Card |
| BLRR-EN016 | "Cyber Emergency" | Secret Rare | Normal Spell Card |
| BLRR-EN017 | "Born from Draconis" | Ultra Rare | Normal Trap Card |
| BLRR-EN018 | "Cyber Eltanin" | Ultra Rare | Effect Monster |
| BLRR-EN019 | "Cyber Larva" | Ultra Rare | Effect Monster |
| BLRR-EN020 | "Slash Draw" | Ultra Rare | Normal Spell Card |
| BLRR-EN021 | "Michion, the Timelord" | Ultra Rare | Effect Monster |
| BLRR-EN022 | "Hailon, the Timelord" | Ultra Rare | Effect Monster |
| BLRR-EN023 | "Raphion, the Timelord" | Ultra Rare | Effect Monster |
| BLRR-EN024 | "Gabrion, the Timelord" | Ultra Rare | Effect Monster |
| BLRR-EN025 | "Sandaion, the Timelord" | Ultra Rare | Effect Monster |
| BLRR-EN026 | "Metaion, the Timelord" | Ultra Rare | Effect Monster |
| BLRR-EN027 | "Empty Machine" | Secret Rare | Continuous Trap Card |
| BLRR-EN028 | "Infinite Machine" | Secret Rare | Continuous Trap Card |
| BLRR-EN029 | "Infinite Light" | Secret Rare | Continuous Trap Card |
| BLRR-EN030 | "Number 27: Dreadnought Dreadnoid" | Secret Rare | Effect Xyz Monster |
| BLRR-EN031 | "Number 67: Pair-a-Dice Smasher" | Secret Rare | Effect Xyz Monster |
| BLRR-EN032 | "Number 75: Bamboozling Gossip Shadow" | Secret Rare | Effect Xyz Monster |
| BLRR-EN033 | "Number 90: Galaxy-Eyes Photon Lord" | Secret Rare | Effect Xyz Monster |
| BLRR-EN034 | "Iron Draw" | Secret Rare | Normal Spell Card |
| BLRR-EN035 | "Glorious Numbers" | Secret Rare | Normal Spell Card |
| BLRR-EN036 | "Hayate the Earth Star" | Ultra Rare | Effect Monster |
| BLRR-EN037 | "Tenma the Sky Star" | Ultra Rare | Effect Monster |
| BLRR-EN038 | "Kaiki the Unity Star" | Ultra Rare | Effect Monster |
| BLRR-EN039 | "Idaten the Conqueror Star" | Ultra Rare | Effect Fusion Monster |
| BLRR-EN040 | "Shura the Combat Star" | Ultra Rare | Effect Fusion Monster |
| BLRR-EN041 | "Hibernation Dragon" | Secret Rare | Effect Monster |
| BLRR-EN042 | "Triggering Wurm" | Secret Rare | Effect Monster |
| BLRR-EN043 | "Topologic Gumblar Dragon" | Secret Rare | Effect Link Monster |
| BLRR-EN044 | "Borrelguard Dragon" | Secret Rare | Effect Link Monster |
| BLRR-EN045 | "Flash Charge Dragon" | Secret Rare | Effect Link Monster |
| BLRR-EN046 | "Monster Reborn" | Secret Rare | Normal Spell Card |
| BLRR-EN047 | "Torrential Tribute" | Ultra Rare | Normal Trap Card |
| BLRR-EN048 | "Cyber Dragon" | Ultra Rare | Effect Monster |
| BLRR-EN049 | "Neo-Spacian Aqua Dolphin" | Ultra Rare | Effect Monster |
| BLRR-EN050 | "Neo-Spacian Air Hummingbird" | Ultra Rare | Effect Monster |
| BLRR-EN051 | "Neo-Spacian Grand Mole" | Ultra Rare | Effect Monster |
| BLRR-EN052 | "Neo-Spacian Dark Panther" | Ultra Rare | Effect Monster |
| BLRR-EN053 | "Card Trooper" | Secret Rare | Effect Monster |
| BLRR-EN054 | "Rainbow Dark Dragon" | Ultra Rare | Effect Monster |
| BLRR-EN055 | "Convert Contact" | Ultra Rare | Normal Spell Card |
| BLRR-EN056 | "Sephylon, the Ultimate Timelord" | Ultra Rare | Effect Monster |
| BLRR-EN057 | "T.G. Wonder Magician" | Ultra Rare | Effect Tuner Synchro Monster |
| BLRR-EN058 | "Norito the Moral Leader" | Ultra Rare | Effect Xyz Monster |
| BLRR-EN059 | "Performage Damage Juggler" | Ultra Rare | Effect Monster |
| BLRR-EN060 | "Performage Trick Clown" | Ultra Rare | Effect Monster |
| BLRR-EN061 | "The Phantom Knights of Ancient Cloak" | Secret Rare | Effect Monster |
| BLRR-EN062 | "The Phantom Knights of Silent Boots" | Secret Rare | Effect Monster |
| BLRR-EN063 | "Supreme King Dragon Darkwurm" | Secret Rare | Effect Pendulum Monster |
| BLRR-EN064 | "Brilliant Fusion" | Secret Rare | Continuous Spell Card |
| BLRR-EN065 | "Phantom Knights' Fog Blade" | Secret Rare | Continuous Trap Card |
| BLRR-EN066 | "Altergeist Hexstia" | Ultra Rare | Effect Link Monster |
| BLRR-EN067 | "Altergeist Manifestation" | Ultra Rare | Normal Trap Card |
| BLRR-EN068 | "PSY-Frame Driver" | Ultra Rare | Normal Monster |
| BLRR-EN069 | "Pyrorex the Elemental Lord" | Ultra Rare | Effect Monster |
| BLRR-EN070 | "Windrose the Elemental Lord" | Ultra Rare | Effect Monster |
| BLRR-EN071 | "Noble Knight Medraut" | Ultra Rare | Effect Monster |
| BLRR-EN072 | "Noble Knight Brothers" | Ultra Rare | Effect Monster |
| BLRR-EN073 | "Merlin" | Secret Rare | Effect Monster |
| BLRR-EN074 | "Uni-Zombie" | Ultra Rare | Effect Tuner monster |
| BLRR-EN075 | "Gameciel, the Sea Turtle Kaiju" | Secret Rare | Effect Monster |
| BLRR-EN076 | "Darklord Ixchel" | Secret Rare | Effect Monster |
| BLRR-EN077 | "Darklord Nasten" | Ultra Rare | Effect Monster |
| BLRR-EN078 | "Eater of Millions" | Ultra Rare | Effect Monster |
| BLRR-EN079 | "Elemental HERO Honest Neos" | Secret Rare | Effect Monster |
| BLRR-EN080 | "Trickstar Narkissus" | Ultra Rare | Effect Monster |
| BLRR-EN081 | "Fullmetalfoes Alkahest" | Ultra Rare | Effect Fusion Monster |
| BLRR-EN082 | "Metalfoes Mithrilium" | Secret Rare | Effect Fusion Monster |
| BLRR-EN083 | "Crystron Quandax" | Secret Rare | Effect Tuner Synchro Monster |
| BLRR-EN084 | "Tornado Dragon" | Secret Rare | Effect Xyz Monster |
| BLRR-EN085 | "Number 41: Bagooska the Terribly Tired Tapir" | Ultra Rare | Effect Xyz Monster |
| BLRR-EN086 | "Imduk the World Chalice Dragon" | Ultra Rare | Effect Link Monster |
| BLRR-EN087 | "Gaia Saber, the Lightning Shadow" | Ultra Rare | Link Monster |
| BLRR-EN088 | "Preparation of Rites" | Ultra Rare | Normal Spell Card |
| BLRR-EN089 | "Kyoutou Waterfront" | Ultra Rare | Field Spell Card |
| BLRR-EN090 | "Pre-Preparation of Rites" | Ultra Rare | Normal Spell Card |
| BLRR-EN091 | "The Kaiju Files" | Ultra Rare | Continuous Spell Card |
| BLRR-EN092 | "Union Hangar" | Secret Rare | Field Spell Card |
| BLRR-EN093 | "Banishment of the Darklords" | Ultra Rare | Normal Spell Card |
| BLRR-EN094 | "Darklord Contact" | Ultra Rare | Normal Spell Card |
| BLRR-EN095 | "Foolish Burial Goods" | Ultra Rare | Normal Spell Card |
| BLRR-EN096 | "Dragonic Diagram" | Secret Rare | Field Spell Card |
| BLRR-EN097 | "Duelist Alliance" | Ultra Rare | Normal Spell Card |
| BLRR-EN098 | "World Legacy Discovery" | Ultra Rare | Field Spell Card |
| BLRR-EN099 | "World Legacy's Heart" | Ultra Rare | Normal Spell Card |
| BLRR-EN100 | "Solemn Judgment" | Ultra Rare | Counter Trap Card |
| BLRR-EN101 | "Bottomless Trap Hole" | Ultra Rare | Normal Trap Card |
| BLRR-EN102 | "Solemn Strike" | Ultra Rare | Counter Trap Card |
| BLRR-EN103 | "Darklord Enchantment" | Ultra Rare | Normal Trap Card |
| BLRR-EN104 | "Unending Nightmare" | Ultra Rare | Continuous Trap Card |
| BLRR-EN105 | "Trickstar Reincarnation" | Secret Rare | Normal Trap Card |