El Segundo, Calif. (July 3, 2018) – Whether you're a seasoned Duelist or a newcomer just finding their footing, the future is now in the Yu-Gi-Oh! TRADING CARD GAME (TCG). This July, Konami Digital Entertainment, Inc. (KONAMI) prepares to usher in a new generation of competitors, and delves into the past to weave an electrifying future.  Starter Deck: Codebreaker is the gateway to glory for new Duelists, guided by the coveted Linkuriboh! Then, a new dawn approaches on the Cybernetic Horizon: fan-favorite themes return, new strategies arise, and Ritual Monsters are reborn like never before in the next big booster set.
Ready to start your Dueling journey? Starter Deck: Codebreaker is your portal into the Yu-Gi-Oh! TCG, offering new Duelists a ready-to-go Deck filled with strong cards selected for ease of play.
Built to teach the basics of Dueling and Link Summoning, you can combine Starter Deck: Codebreaker with "Cyberse" monsters and "Code Talker" Link Monsters from releases like Structure Deck: Cyberse Link and Extreme Force to grow your Deck as you improve your skills. Starter Deck: Codebreaker even includes the essential Link Monster Linkuriboh to jumpstart your Dueling career – a powerful card never released before in Latin American and European territories.
Starter Deck: Codebreaker launches on July 13 with 45 cards: 2 Ultra Rares, 3 Super Rares, and 40 Commons, and includes 1 Beginner's Guide and 1 Game Mat. MSRP: $9.99 per box.
The Cybernetic Horizon Booster Pack
Classic monsters and powerful themes from Dueling's most treasured eras are unleashed in all-new forms with the Cybernetic Horizon booster pack! Ritual Monsters are back and better than ever, with two new versions of the devastating Ruin, Queen of Oblivion and the world-shattering Demise, King of Armaggedon. The Cyberse power-up with new Ritual versions of Cyberse Wizard and their very own "Paladin" monster in the tradition of Paladin of White Dragon!  Plus, both strategies wield powerful Ritual Spells that make repeat Ritual Summons easier than ever before.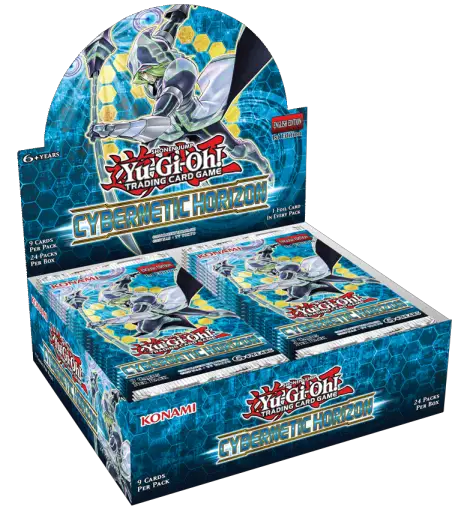 Then, a new tribe of monsters built on Link Summoning enter the fray! Legendary Link Monsters let you Special Summon their servants to the Monster Zones they point to, using them to bolster their own attacks. New cards for the Gouki, Dragunity, "Borrel" Dragon, and "Cyber Dragon" themes make Cybernetic Horizon one of the most anticipated releases of the year, while powerful highlights – like an incredible new Field Spell that turns your high-Level monsters into a powerful draw engine, and the long-awaited arrival of the DARK Attribute Elemental Lord – bring untold power to established strategies. 
Finally, the Noble Knights take up their Arms and return to battle once more!  Noble Knight Custennin is an explosive Special Summon granting extra Normal Summons to help you assemble your party. Overlay your Noble Knights to unleash Sacred Noble Knight of King Custennin, a Rank 4 field-sweeper that bounces opposing cards! When it's destroyed, King Custennin replaces itself with another "Noble Knight" Xyz Monster from your Extra Deck, holding the line against your opponent's forces.
The Cybernetic Horizon breaks on July 27, a 100-card set with 8 Secret Rares, 10 Ultra Rares, 14 Super Rares, 20 Rares, and 48 Commons. MSRP: $3.99 per 9-card pack.
Duelists can now watch episodes of the exciting new Yu-Gi-Oh! animated series, Yu-Gi-Oh! VRAINS, available subtitled on Crunchyroll. The series will be simulcast with a new episode available one hour after it is broadcast in Japan, at 6:25AM EST (Simulcast currently available in the US and Latin America). Watch here: http://www.crunchyroll.com/yu-gi-oh-vrains!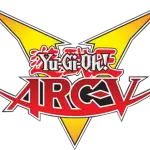 Additionally, Duelists can watch a new episode of Yu-Gi-Oh! ARC-V every Saturday on Nicktoons – check local listings for times. In addition, all-new Yu-Gi-Oh! ZEXAL episodes every Tuesday as well as all of classic Yu-Gi-Oh!, Yu-Gi-Oh! GX, and Yu-Gi-Oh! 5D's can be seen on www.yugioh.com in the United States.
In Canada, Duelists can watch episodes of Yu-Gi-Oh! ARC-V every Friday and Saturday on Teletoon! For more information on KONAMI or the Yu-Gi-Oh! TRADING CARD GAME, please visit www.yugioh-card.com or call 310-220-8630 to speak directly with a Yu-Gi-Oh! customer support team member.
About The Yu-Gi-Oh! TCG
The Yu-Gi-Oh! TRADING CARD GAME is the #1 trading card game in the world with over 25 billion cards sold. It is a game of strategy, where players create individual Decks of cards collected from Structure Decks and Booster Packs. Two players engage in a Duel while using cards that represent powerful monsters, magical Spells and surprising Traps. Duelists with well-constructed Decks, dominating monsters, solid strategy and good fortune are the victors in the Yu-Gi-Oh! TCG. Konami Digital Entertainment, Inc. is the exclusive licensee and rights holder to the Yu-Gi-Oh! TCG in North America and Latin America.
About KONAMI
KONAMI is a leading developer, publisher and manufacturer of electronic entertainment properties and traditional trading card games. KONAMI's software titles include the popular franchises Metal Gear Solid, Silent Hill, DanceDanceRevolution and Castlevania, among other top sellers. KONAMI is also the manufacturer of the wildly popular Yu-Gi-Oh! TRADING CARD GAME, which has sold more than 25 billion cards worldwide. The latest information about KONAMI can be found on the Web at www.konami.com. KONAMI HOLDINGS CORPORATION is a publicly traded company based in Tokyo, Japan with subsidiaries, Konami Digital Entertainment Co., Ltd. in Tokyo, Japan, Konami Digital Entertainment, Inc. in the United States and Konami Digital Entertainment B.V. in Windsor, the United Kingdom. Details of the products published by KONAMI can be found at www.konami.com.