Konami has just announced that the launch date for the upcoming product release from Yu-Gi-Oh! TRADING CARD GAME, Duel Power, has changed from Friday, April 5th to Wednesday, April 3rd, 2019.
Duel Power celebrates Spring 2019 by rolling together a new 100-card Ultra Rare booster set (including 40 brand-new cards) alongside new Ultra Rare variant artwork of every Yu-Gi-Oh! TV series ace monster (from Dark Magician to Decode Talker), and a new double-sided Gameboard celebrating Yu-Gi-Oh!'s history.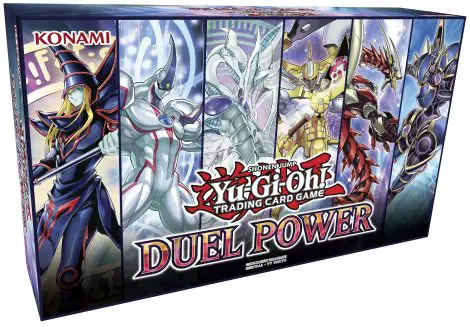 Each box of Duel Power contains 6 new Duel Power booster packs with 5 Ultra Rare cards per pack. Duel Power's booster set includes 40 new cards and 60 hot reprints, including the 4 popular "discard" effect monsters (from Ghost Ogre & Snow Rabbit to Ghost Belle & Haunted Mansion); popular Spells and Traps like Infinite Impermanence, Card of Demise, and Evenly Matched; Link Monsters from Borreload Dragon to Trickstar Holly Angel; and out-of-print cards like Naturia Beast, High Priestess of Prophecy, and 2015's "Nekroz" Ritual Monsters.
Each Duel Power box contains: 6 Duel Power booster packs, each with 5 Ultra Rare cards per pack, 6 new Ultra Rare variant art cards, showing off new art versions of the main monsters from each Yu-Gi-Oh! anime series (Dark Magician, Elemental HERO Neos, Stardust Dragon, Number 39: Utopia, Odd-Eyes Pendulum Dragon, and Decode Talker), and 1 Gameboard.