The winds of change are blowing in Rising Rampage, the first 100-card booster set of the 2019-2020 Dueling season! A fresh Dueling season means fresh new strategies, breathing new life into older strategies, and strong individual cards that anyone can use.
Be among the first to check out Rising Rampage when you go to a Sneak Peek at your local Official Tournament Store!
Participating stores will be randomly handing out exclusive Rising Rampage Game Mats at the Sneak Peek, either as door prizes, through drawings, or by winning a tournament (check with your participating store for details).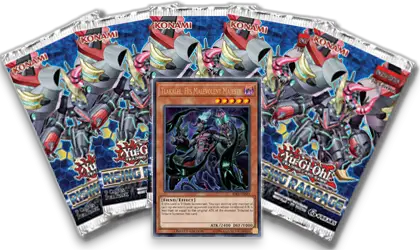 Plus, participants will receive a limited edition, Ultra Rare Tlakalel, His Malevolent Majesty card, and 5 booster packs! Supplies are limited, so show up early and don't get left out!
As with every set, Rising Rampage& includes 8 Bonus Cards (previously available only in Japan), plus 12 World Premiere cards never before seen anywhere on Earth! You won't want to miss out!
Sneak Peeks are pre-release events that provide the opportunity to preview an upcoming set at an Official Tournament Store (OTS). Sneak Peeks are primarily non-competitive events that require minimal staffing on behalf of the OTS and a high standard of sportsmanship from the players.
Only Konami OTS are permitted to host a Sneak Peek. 
Sneak Peeks are run as casual events, meaning the level of rules enforcement is light to moderate. The primary goal of Sneak Peeks is to encourage all participants to have an enjoyable experience while introducing them to the newest Booster set release.
Rising Rampage (RIRA) Sneak Peek will be held on Saturday and/or Sunday, July 20th, 2019 – July 21st, 2019. A list of locations for currently scheduled Sneak Peek events can be found online at https://www.yugioh-card.com/en/events/sneakpeek/sneakpeek_current-locations.html. Please contact the OTS for exact date(s) and time(s) for their Sneak Peek.
Sneak Peeks may not start before 8:00AM local time and should not conclude after 8:00PM local time.
In addition to the items a participant receives upon registering for the Sneak Peek, they are also eligible to win an exclusive Rising Rampage Game Mat. Sneak Peek Game Mats can now be distributed via two methods:
One (1) or two (2) Game Mats given out randomly as either door prizes or through drawings to those who registered and participated in the Open Dueling portion of the Sneak Peek.
If only one Game Mat was used as a door prize or drawing, then one (1) Game Mat given as a prize for winning a Sneak Peek tournament.
Duelists who win a Sneak Peek Game Mat by winning a Sneak Peek tournament are not eligible to win one of the Game Mats as a door prize or drawing. If a player wins a Sneak Peek Game Mat as a door prize or drawing while he/she is currently enrolled in a Sneak Peek tournament, they must drop from the tournament to be eligible for the Sneak Peek Game Mat being awarded as a door prize or drawing.
Sneak peek participants are only eligible to win a maximum of one (1) Sneak Peek Game Mat per location per day.
See complete details and tournament info on the official event page: https://www.yugioh-card.com/en/events/sneakpeek/sneakpeek_info.html