25th-Anniversary Yu-Gi-Oh! Ultimate Kaiba Set
Fans may not only pick up some of Kaiba's most notable cards but also carry them in style with their very own briefcase, thanks to the Official Card Game for Yu-Gi-Oh! Ultimate Kaiba Set,
One of Yu-Gi-Oh!'s most popular characters, Seto Kaiba, earns the title of one of the anime franchise's most beloved anti-heroes for his willingness to fight both heroes and villains throughout the first series, Duel Monsters.
Yu-Gi-Oh!'s 25th anniversary is here..
To commemorate the franchise's twenty-fifth anniversary, the Official Card Game for Yu-Gi-Oh! is giving fans a chance not only to collect some of Kaiba's most memorable cards but also to carry them in style with a briefcase of their own.
The Ultimate Kaiba Set is a deluxe package, which costs 33,000 yen (approximately US$301), comes with Seto Kaiba's iconic briefcase, plus his entire card deck with original edition artwork. This includes three copies of the Blue-Eyes White Dragon and three new cards which previously only existed in the manga or anime.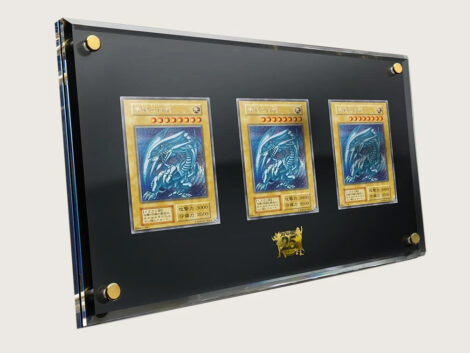 The full contents of the set are as follow:
Three Blue-Eyes White Dragon cards (Secret Rare), framed in a display case. The case has an original work 25th anniversary logo
Seto Kaiba's deck: 58 cards, plus three new cards (all Ultra Rare)
Briefcase that can hold approximately 7,000 cards. The lid comes with a belt that can hold two game mats
The three new cards originally appeared in the manga, and are finally getting an official card version. These are the Attack Guidance Armor, Life Shaver, and Magical Trick Mirror cards.
Pre-orders are open in Japan from September 21 to October 31. The item is expected to ship in April, 2022. No word if this will come to the TCG version.. stay tuned to find out.
Complete Ultimate Kaiba Set includes these Cards :
Attack guidance armor (* new card)
Shaving life (* new card)
Mechanical magic mirror (* new card)
Blue-eyed white dragon
diamond ・Dragon
Judge Man
Revenge Sword Stalker
Tetsuwan Golem
Goddess of Reversal
Gadget Soldier
Ludo Kaiser
Blood Vols
X-Head Cannon
Lamp Demon La Gene
Minotaurus
Gargoyle Powered
Kentauros
Grappler
Cyclops
Gargoyle
Darkness
Obelisk of Kyoshin soldiers
Kamen Monster Death Gadiusu
Kaiser glider
invites the sleep of darkness Lucifer
Death gremlin
Blade Night
Y- Dragon head
Z- metal Caterpillar
Lord of the Dragon – Dragon of the ruler –
evil worm Beast
Magic ·lamp
Sagan of ultimate dragon
XYZ- Dragon Cannon
XY- Dragon Cannon
Mino centaur
dead resuscitation
fusion
"defense" sealed
hypnosis
dragon called whistle
cross Soul
Damasuru dead
submission of loud voice
cost
cutting life of treasure bills
Devil's Sanctuary
contraction
Enemy Controller
Giant
Darkness / Energy
Magic Absorption
Death Deck Destruction Virus
Holy Elf's Blessing
Destruction Ring
Magic Removal Bacterial Weapon
Subspace Material Transfer Device
Clone Duplication
Darkness Curse
Final Assault Command
Attack Neutralization