You can be entered into a drawing to win exclusive prizes, including a Game Mat and an Ultra Rare copy of Floowandereeze & Empen
With the opportunity to resume in-store organized play in the United States and Canada, each OTS in North America has the option to host the Burst of Destiny Premiere! Event as a Pre-release or as an in-store event. Many OTS in North America may choose to hold the BODE Premiere! as a Pre-release instead of an in-store event so please contact your local participating OTS to find out if they are hosting the BODE Premiere!
The Burst of Destiny Premiere! Event will be held on Saturday, October 30th and Sunday, October 31st during regular business hours.
Collect cards before their official release at the Burst of Destiny Premiere! Event. Every Duelist who purchases a minimum of 5 packs will receive a Field Center Card* with their purchase and be entered into a drawing to win exclusive prizes including a Game Mat* and an Ultra Rare Card*!
The health and safety of the Yu-Gi-Oh! TCG community is our top priority. Because of recommendations against large gatherings by the Center for Disease Control (CDC), the World Health Organization (WHO), as well as various state and local governments, we feel that it is in everyone's best interest to keep the Burst of Destiny Premiere! Event as a Pre-release Event for Official Tournament Stores (OTS) in Latin America.
Burst of Destiny core booster for the Yu-Gi-Oh! TRADING CARD GAME (TCG) explodes onto the scene Nov 5, 2021!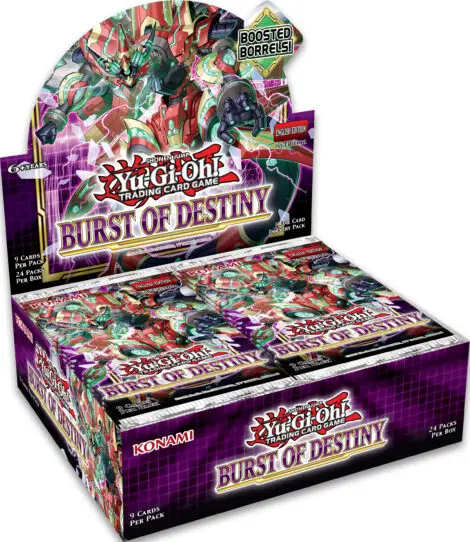 This 100-card set introduces multiple brand-new themes as well as 2 new "Borrel" monsters including the very first Ritual Monster for this iconic series of monsters from Yu-Gi-Oh! VRAINS! You can even find ways to revitalize famous cards from the past, like a whole new strategy based on the many "Penguin" monsters that have existed in the Yu-Gi-Oh! TCG since 2002. Burst of Destiny is filled to the brim with high-octane strategies that are ready to blast into Duelist's Decks! Here's a taste of what you can expect:
Powerful DARK Dragons!
The debut of a Winged-Beast theme that can triple your Normal Summoning power and incentivizes Tribute Summoning Level 7+ monsters!
A new Wyrm Synchro theme that grants you powerful effects AND Tokens that are also Tuners! You can play them on their own or mix in other powerful Wyrms.
Brand new "Destiny HERO" monsters!
More cards for themes introduced in Genesis Impact, Ancient Guardians, Lightning Overdrive, Dawn of Majesty, Ghosts From the Past, and more!
The continuation of the Insect World Premiere theme that begins in Dawn of Majesty!
And much more!
The Burst of Destiny booster set contains 100 new cards:
50 Commons
26 Super Rares
14 Ultra Rares
10 Secret Rares
*while supplies last