Link Summons and VRAINS  World are coming as part of a major update
Konami Digital Entertainment, Inc. (KONAMI) has revealed that the VRAINS World is coming to Yu-Gi-Oh! DUEL LINKS later this month. The virtual universe of the iconic anime Yu-Gi-Oh! VRAINS arrives on September 28 as part of a major update to the hit mobile and PC game.
With the VRAINS World coming, Duelists can look forward to the much-anticipated addition of Link Summoning. A player can Link Summon to bring forth powerful Link Monsters onto the field. These monsters apply special effects to cards in zones they point to, making them a valuable addition to any Duelist's arsenal.
The inclusion of Link Summoning will also herald a new EX Monster Zone being added to the Yu-Gi-Oh! DUEL LINKS field. It's a game-changing update that opens the path to exciting new strategies for players to enjoy.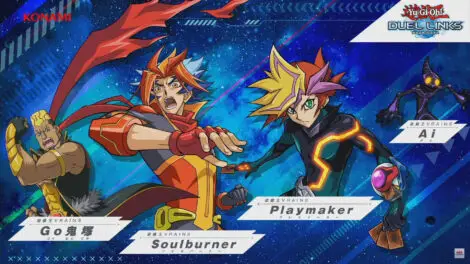 On top of the VRAINS World and Link Summoning, this month's major update will bring brand-new missions and cards to the game. Duelists can also link into a new playable character: the protagonist of Yu-Gi-Oh! VRAINS, Playmaker.
To celebrate the new VRAINS World, all Yu-Gi-Oh! DUEL LINKS players will be able to receive a variety of log-in bonuses, including the new Link Monster, Code Talker. The full array of log-in bonuses features:
Prismatic Code Talker, Prismatic Cyberse Wizard and Prismatic Backup Secretary cards
10 free pulls and a guaranteed UR card from the new 42nd Main BOX
2 UR Tickets – 1 Prismatic and 1 Normal
1 UR Dream Ticket – Glossy
2 SR Tickets – 1 Prismatic and 1 Normal
1 SR Dream Ticket – Glossy
1,000 Gems
1 Skill Ticket
1 Character Unlock Ticket
New Card Sleeves and Game Mat accessories featuring Yu-Gi-Oh! VRAINS artwork
For more information, please visit https://www.konami.com/yugioh/duel_links/
Based on the official Yu-Gi-Oh! TRADING CARD GAME (TCG), Yu-Gi-Oh! DUEL LINKS brings the popular game to life on mobile devices and on PC. Duelists can kindle the spirit of Yami Yugi, Jaden Yuki, Yusei Fudo, and other beloved characters from the Yu-Gi-Oh! franchise in competitive card battle action.
Yu-Gi-Oh! DUEL LINKS has now achieved 150 million downloads worldwide. Duelists across the world have collected more than 65 billion cards and have done battle in 6 billion Duels.
The Yu-Gi-Oh! series is based on the manga Yu-Gi-Oh! (by Kazuki Takahashi), which was serialized in SHUEISHA Inc.'s Weekly Shonen Jump magazine from 1996 and is now on the eighth iteration of the "Yu-Gi-Oh!" animated series (currently airing on TV Tokyo-affiliated channels).
KONAMI released the first console game in 1998, and the series, including the trading card game, is still enjoyed by countless customers worldwide. KONAMI continues to develop and distribute a wide range of Yu-Gi-Oh! content to deliver the fun and excitement of the series to customers around the globe.
Yu-Gi-Oh! DUEL LINKS is available for free at the App Store® for iPad®, iPhone® and iPod touch®, Google Play™ for Android™ devices, and for PC via Steam.
Today, the popular Yu-Gi-Oh! TCG is available across the globe, with products distributed in more than 80 countries and 9 languages, to be enjoyed by fans of all ages.
For all the latest information regarding Yu-Gi-Oh! TCG products and events, and all Yu-Gi-Oh! digital card game titles, please visit the following: