KONAMI DIGITAL ENTERTAINMENT WARMS-UP WINTER WITH THREE NEW Yu-Gi-Oh! TRADING CARD GAME PRODUCTS
El Segundo, Calif. (February 9, 2016) – Konami Digital Entertainment, Inc. (KONAMI), the manufacturer of the multiple world record-holding Yu-Gi-Oh! TRADING CARD GAME (TCG) has the antidote to the winter doldrums with three new Yu-Gi-Oh! TCG products to be released this month.
KONAMI kicks-off February with the Wing Raiders special booster set hitting store shelves February 12. Wing Raiders contains brand-new Xyz cards and cards from the new Yu-Gi-Oh! ARC-V series, including several cards to help players power up a current Deck, or build a whole new Deck!
With the Wing Raiders booster set, Duelists can power up their Xyz strategies, like Raidraptors, with new powerful cards like Raidraptor – Satellite Cannon Falcon, an Xyz Monster that devastates your opponent's Spell & Trap cards and uses the power of fallen Raidraptors to sap the power of an opponent's monsters!. Duelists can also try their hand at commanding two new monster themes that'll take their Xyz strategies to the next level – the spectral Phantom Knights and the Super Quantum mecha pilots! The Wing Raiders booster set contains 60 cards; each 9-card pack is $3.99 MSRP.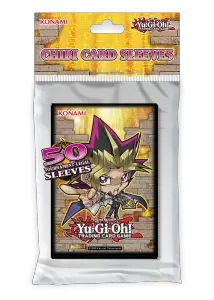 Duelists who have amassed a collection of new cards during the past few months can now show off their stash in style with Yu-Gi-Oh! Chibi Card Sleeves also releasing February 12. These glossy, premium quality tournament-legal sleeves feature the iconic Yugi – in all his super-deformed glory!
Naturally, the Chibi Sleeves go great with the Yu-Gi-Oh! Duelist Kingdom Chibi Game Mats and the  Yu-Gi-Oh! Chibi Card Case, both released last year – collect all of them to complete an awesome Chibi set.  Each pack contains 50 card sleeves specifically designed for the Yu-Gi-Oh! TCG for $3.99 per pack.
Continue reading Konami Announces February Yu-Gi-Oh! TCG Product Releases →